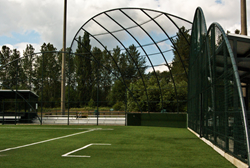 "Level the playing field - literally" manufacturers are told by award-winning architect. - CLFMI
Columbia, MD (PRWEB) August 11, 2016
"If you focus on a being a problem-solver instead trying to sell a product or your own ideas, city officials, planners, and other decision-makers will want to partner with you,' said Bruce Dees, an award-winning architect from Tacoma, WA. Dees, President of Bruce Dees & Associates, was addressing the attendees at the recent Summer Meeting of the Chain Link Fence Manufacturers Institute (CLFMI) in Charlottesville, VA. "My experience had been that chain link fencing systems really had a lot of flexibility and could be very aesthetically pleasing, but my clients in the Park and Planning systems across the region had these pre-conceived notions about the product. After they described what their biggest concerns were –safety, cost, convenience, etc. - I was able to show them designs that met their needs. They didn't care what product I used as along as it did what they wanted within budget, and I tried to show them that chain link could meet those criteria."
Dees went on to show the attendees a variety of projects he had designed for parks, recreation areas, and other public spaces. In each case, he said, his team started with the concerns of the contracting agency.
"Having built up a fairly large portfolio of successful projects, I'm able to give the client some examples that have worked in other communities for similar challenges, Dees noted. "Many time they'll look at these and say 'Can you do that in my city?' I assure them that chain link can be more than just a tall fence that stops balls from going in the street."
"That's the story architects and specifiers need to hear and see," Dees concluded. "Today's chain link can do more than many of them know, and it's the industry's job to educate them."
About Chain Link Fence Manufacturers Institute
Chain Link Fence Manufacturers Institute is an association of chain link fence manufacturers, architects, engineers and contractors with members in the USA, Canada, Mexico and the Caribbean.
Chain Link Fence Manufacturers Institute
10015 Old Columbia Rd. Suite B215
Columbia, Maryland 21046
United States
P: 301-596-2583