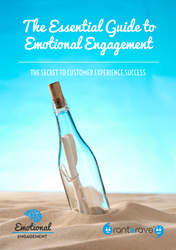 "Find something meaningful for the customer and emotion will flow."
(PRWEB UK) 3 August 2016
The Essential Guide to Emotional Engagement covers a breadth of topics including the roles of sentiment of verbatim, how to measure emotion, and how to engage employees, with research and contributions from the likes of Forrester, Temkin, Sky, Affinity Water, Northern Gas Networks, Orbit, News UK and many more.
The piece explores and teaches readers why it's important to measure emotional engagement and how to connect action back to business results, with practical tips throughout.
As the debate develops, the eBook will evolve so that it continues to reflect the latest thinking. Readers are encouraged to submit their own contributions to hello(at)rantandrave(dot)com to be featured in version 2.0 of The Essential Guide to Emotional Engagement.
To read the full eBook visit: http://ravingcontent.rantandrave.com/the-essential-guide-to-emotional-engagement
About Rant & Rave:
Rant & Rave was launched in 2000 and is a leading customer engagement specialist, counting half of the FTSE as clients. Its real-time technology lets brands proactively communicate with and listen to the voice of their customers so they can take real-time, inspired action.'