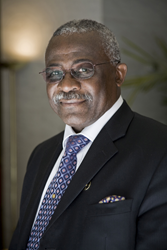 "Ebola has had an enormous impact on the lives of rural people - many of whom are small-scale farmers who could not grow food or earn a living during the epidemic" said Nwanze.
(PRWEB) August 03, 2016
The biggest outbreak of Ebola in human history is over, but urgent investments in the rural areas of Sierra Leone and Liberia are needed if these countries are to fully recover, said Kanayo F. Nwanze, President of the International Fund for Agricultural Development (IFAD), on the eve of his official visit to the two countries.
"Ebola has had an enormous impact on the lives of rural people – many of whom are small-scale farmers who could not grow food or earn a living during the epidemic," said Nwanze. "If we do not channel our investments to the rural areas now, these farmers may have to migrate in search of work. This could compromise the future food security of these countries."
During his visit to Sierra Leone (4-6 August), Nwanze will meet President Ernest Bai Koroma, the Ministers of Agriculture, Finance and Gender and the Governor of the Bank of Sierra Leone.
In Liberia (6-8 August), he will meet President Ellen Johnson Sirleaf, the Minister of Agriculture and project implementation partners.
Discussions will focus on how IFAD can further support the two countries' post-Ebola recovery plans, particularly in rural areas.
More than 11,310 people died from the Ebola virus between 2014 and 2016 in the three affected countries: Guinea, Liberia and Sierra Leone. Measures to contain the virus, such as restrictions of movement, border closures and quarantines, resulted in the closure of markets and a decline in domestic and export agriculture.
IFAD-funded projects continued running during the crisis, and prevention kits, seeds and fertilizers were distributed to project participants to help them continue growing crops to feed their families.
When Sierra Leone's commercial banks left the rural areas during the epidemic, the IFAD-supported Rural Finance Institutions (RFIs) continued providing financial services to rural health care staff, civil servants and teachers, enabling them to remain in affected areas and provide essential services. Since the end of the outbreak, IFAD has provided the RFIs with an additional US$960,000 to help smallholder farmers recover their livelihoods.
IFAD has also contributed $80,000 to the Government of Liberia to conduct a post-Ebola food assessment survey to evaluate how best to restore the productive capacities of small-scale farmers. IFAD has also approved $41.6 million for two new projects to support the Government's post-Ebola recovery efforts.
"With more than 70 per cent of rural people in these countries engaged in agriculture, our first concern is to ensure they can grow food and earn incomes again so they can rebuild their communities," said Nwanze. "But it is equally important to ensure that they have access to the right tools and resources to build their resilience so they are less vulnerable to future shocks."
Notes to Editor
Since 1980, IFAD has financed eight programmes and projects in Sierra Leone for a total value of $251.9 million, of which IFAD has contributed US$116.2 million, directly benefiting 513,500 rural households.
In Liberia, IFAD started operations in 1981. With prolonged civil war in the country, IFAD suspended its activities there for 20 years, resuming its operations in 2009. As of today, IFAD has financed six programmes and projects in Liberia for a total value of $117.2 million, of which IFAD has contributed US$61.9 million, directly benefiting 156,600 rural households.