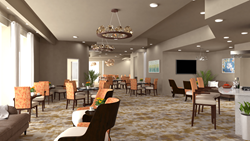 "The Village at Belmar will be a wake-up call for stimulating new and exciting design and programming for senior living on a national platform."
Lakewood, Colorado (PRWEB) August 04, 2016
Ascent Living Communities is pleased to announce the hiring of Bonnie Bachman as Executive Director and Susan Walker as Marketing and Membership Director at Village at Belmar senior living community.
Bachman brings 12 years of senior living experience with facilities in Denver and Front Range communities, successfully cultivating remarkable teams with her positive leadership style. Born in Hershey, Pennsylvania, she has lived in Colorado for 16 years and is a Colorado Assisted Living Residence Administrator. Bachman enjoys spending free time with her friends and family, husband Sean and daughter Sophia, and their Italian Mastiff.
"I am so excited for the opportunity to join this team," Bachman says. "I'm so elated to be able to shape the culture and oversee the operations of this amazing community, which integrates intentional design, advanced technology, and collaborative partnerships."
Walker comes to Village at Belmar with a strong background in marketing senior living facilities along the Front Range. Born in Michigan, Walker has lived in Colorado for 31 years, first coming here to earn her BS in Business Administration from the University of Colorado Boulder. Her free time is spent in the Colorado outdoors, including skiing in the winter or fishing and camping in the summer.
"I've joined Village at Belmar at an extraordinary time," Walker says. "This will be one of the most amazing senior living campuses in metro-Denver and will become a national model for universal design and programming". The Village is located within a walk-able nine-acre campus composed of 60 ergonomically designed independent living Flats, 72 state-of-the-art Assisted Living Suites, and a 24-suite boutique Memory Care living environment.
About Village at Belmar
Village at Belmar is Ascent Living Communities' newest senior living development. Its enviable location adjacent to the Belmar Shopping District places it amidst abundant health care facilities, magnificent cultural and educational centers, extensive parks, and easy access to downtown Denver and the Rockies. Village at Belmar's marketing and information center is now open and is taking reservation deposits. Construction will be completed in early 2017.
About Ascent Living Communities
Denver-based Ascent is a senior living developer/owner/operator whose primary geographic focus spans from Denver to the West Coast. Founders Tom Finley, Phil Shapiro and Susan Reimer have a combined experience of over 60 years in the senior living and health care fields. Ascent's principals have developed and operated a diverse portfolio of senior living communities throughout their respective tenures with some of the most respected companies in the industry.
Facebook: https://www.facebook.com/search/593869600781225/local_search?surface=tyah
Community Contact:
Susan Walker
Membership and Marketing Director
Village at Belmar
(303) 351-5455
swalker(at)villageatbelmar(dot)com
http://www.villageatbelmar.com