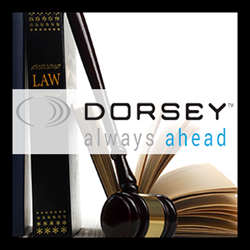 My team is instructed to use SafeCopy at all times to copy client data whether one file or 2 terabytes of information on a hard drive needs to be copied securely. Bottom line, the program is efficient to run.
Murray, Nebraska (PRWEB) August 02, 2016
Dorsey and Whitney LLP, founded over 100 years ago and one of the largest law firms in the United States, provides superb litigation and eDiscovery Services to diverse industries world-wide. As a Litigation Technology Services Manager at Dorsey, Trina Gray has made it a priority to effectively lead the Litigation and eDiscovery Department in a cost-effective and ethical manner. As such, Trina obtained Pinpoint Labs' SafeCopy, a robust tool capable of copying significantly large data sets while reporting accurate metadata capabilities.
Dorsey continues to be a valuable client of Pinpoint Labs due to SafeCopy's reliability and extensive metadata capabilities.
Click here to preview the full case study, "International Law Firm Seeks Small Company for Durable and Defensible eDiscovery Data Copy Tool."
About Pinpoint Labs:
Pinpoint Labs develops e-Discovery collection software- providing defensibility to Legal and Information Technology Professionals seeking to collect discoverable information from laptops, desktops, fil servers and SharePoint sites.
For additional information regarding Pinpoint Labs or Pinpoint Labs' products, visit http://www.pinpointlabs.com. To follow industry news, visit https://www.linkedin.com/company/pinpoint-labs?trk=top_nav_home.