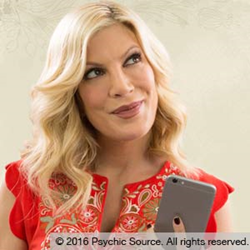 When you consult psychics for career guidance, you 100% have nothing to lose and all to gain.
(PRWEB) August 09, 2016
People might think that a successful actress, producer, writer, designer, wife and mother would be giving career advice herself, not getting it. In fact, acclaimed actress and entrepreneur Tori Spelling said in her recent interview that she often consults psychics about career decisions. She also advised anyone else facing career questions to consider consulting a psychic.
"Some directions that I was taking in my career path ended up happening based on psychics' predictions," said Miss Spelling, who is also the spokeswoman for Psychic Source, the most respected psychic service since 1989. "There were things that maybe I hadn't thought of that they saw in my future that actually happened," she added.
In her numerous personal and professional roles, Ms. Spelling continually faces important career and life decisions. And as her millions of fans know, she does not hide the fact that even someone so multi-talented and successful can benefit from the wisdom, insight and forecasts of professional psychic advisors.
"Ms. Spelling has succeeded in so many areas of her life, yet she's not afraid to admit that she sometimes asks for help from professional psychics," says Psychic Source Marketing Director Maryanne Fiedler. "It's that honesty and down-to-earth attitude that has earned her so many fans and followers, and it's what makes the perfect partner for Psychic Source."
The full interview is available at Psychicsource.com/sTORI
For media inquiries contact Ms. Fiedler at Maryanne(at)psychicsource(dot)com or (215) 953-8568.
*****
About Psychic Source:
Founded in 1989, Psychic Source is the nation's oldest and most respected psychic service. Psychic Source's advisors are experts in astrology, horoscopes, numerology, tarot cards, clairvoyant readings, and many other psychic disciplines. Psychic Source believes in its community of authentic Psychics and stands behind the authentic psychic readings they deliver to clients. Visit them online at http://www.psychicsource.com.
About Tori Spelling:
Tori Spelling is a versatile actress, producer, author, designer, and entrepreneur, perhaps best known for her starring role as Donna Martin on the hit television series "Beverly Hills, 90210" (10 seasons) and her New York Times best-selling memoirs. Spelling's acting and producing careers span television, film, and theater, including most recently Lifetime's docu-series "True Tori" and several series produced with her husband Dean McDermott. Topping off her acting and writing accomplishments is Spelling's design talent, showcased in the 2012 party advice book CelebraTORI, in her clothing line, "Little Maven," for infants and toddlers, and in her DIY fashion jewelry line, "Styled by Tori Spelling." Spelling writes about her interests and experiences juggling life, love, style and family in her online magazine and community "ediTORIal by Tori Spelling" (http://www.ToriSpelling.com).
For more information, contact:
Maryanne Fiedler, Marketing Director
maryanne(at)psychicsource(dot)com
215-953-8568