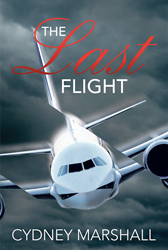 Although my book is a fiction novel, it touches on a number of current events that we face in today's world, such as planes that go missing and are never found or recovered
LAS VEGAS (PRWEB) August 02, 2016
How can an aircraft, carrying dozens of passengers, seemingly vanish into thin air? As a seasoned flight attendant for over 22 years, Cydney Marshall seems to have some answers and experiences with those very dangers of air travel today.
In her newest book "The Last Flight," Marshall incorporates accurate details of the airline industry into her suspenseful novel about a commercial airliner disappearing into the hands of terrorism. Between hijacked and missing planes, air disasters and the use of commercial air for wrongful acts – Marshall touches on every issue in her book.
"Although my book is a fiction novel, it touches on a number of current events that we face in today's world, such as planes that go missing and are never found or recovered," Marshall said.
For the loved ones of passengers that have lost their lives through terror, or even the ones that have become the "missing souls," – Marshall dedicates "The Last Flight" to everyone who has personal connections to the issues in her book.
"I want them to be remembered amongst the missing planes," Marshall said. "They become forgotten by all except the ones they left behind."
As a book that incorporates a lot of twists and turns, "The Last Flight" is a fiction-thriller that will leave the readers itching for more adventure and answers.
For more information, visit http://www.thelastflightbook.com
"The Last Flight"
By Cydney Marshall
ISBN: 9781504345095
Available in softcover, hardcover, e-book
Available on Amazon, Barnes & Noble and Balboa Press
About the author
In her twenty-two years as a flight attendant, Cydney Marshall has flown with over one million passengers and has shared in their joy, thrills, and even death aboard America's jetliners. Her experience with the airlines and her work as an actress led to the penning of her debut thriller, "The Last Flight," and a related screenplay. Marshall is the mother of two sons and a daughter-in-law. Marshall currently lives in Utah and is writing the next thrillers of "The Last Flight" series.
**FOR IMMEDIATE RELEASE**
For review copies or interview requests, contact:
Katie Wenclewicz
317.602.7137
kwenclewicz(at)bohlsengroup(dot)com