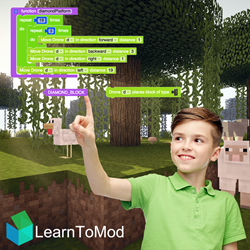 With the National Science Foundation's help, we have big plans to make LearnToMod the most cutting-edge platform for computer science education.
SAN DIEGO, CA (PRWEB) August 03, 2016
With leaders in technology pushing for increased computer science (CS) education in American schools, progress in CS education is coming from an unlikely place: the beloved sandbox video game, Minecraft.
Today, the U.S. National Science Foundation has announced its awarding of a $750,000 Small Business Innovation Research grant to computer science education startup, ThoughtSTEM, in order to accelerate the development of its Minecraft Modding and CS education software, LearnToMod. To date, LearnToMod has taught computer science to over 50,000 students, and students using the software have produced over 1.5 million Minecraft mods. Features developed during the 2-year grant period are expected to entice even more students and teachers to start using the platform for Minecraft modding and computer science education.
ThoughtSTEM's game development studio, Multi-Dimensional Games, first launched LearnToMod in early 2015, after it was featured in WIRED. At that time, the software contained a series of tutorials videos that taught students how to craft Minecraft mods with an easy-to-use drag-and-drop programming interface. These mods were ported directly to private Minecraft servers where students could test how their code affected Minecraft gameplay.
In mid-2015, the National Science Foundation awarded ThoughtSTEM a preliminary $150,000 award to improve LearnToMod further: Minecraft educators at ThoughtSTEM crafted new tutorials for teaching students Minecraft modding in Javascript, software developers revamped LearnToMod's built-in game engine, Vox-L, where students can test their mods in-browser, and Dr. Stephen Foster, CEO of ThoughtSTEM and lead developer at Multi-Dimensional Games, created new tools to assist teachers using LearnToMod in classrooms.
"The potential impact that Minecraft could have on computer science education in this country is huge," says Dr. Foster. "We have a CS education phenomenon on our hands: millions of kids who love Minecraft are interested in learning how to mod. With the National Science Foundation's help, we have big plans to make LearnToMod the most cutting-edge platform for CS education."
Currently, over 2,000 educators world-wide are using LearnToMod in classrooms, and it's not hard to understand why. "Mods allow kids to make their mark on their favorite video game," says Lindsey Handley, COO and Co-Founder of ThoughtSTEM. "They can let their imaginations run wild and come up with an incredible idea, then, bam, program it, and see it appear in the game. So it really energizes kids to learn about computer science, more so than if you taught coding in a more traditional way."
Pricing for LearnToMod is $29.99 per year, for which students get access to over 350 Minecraft modding tutorials (over 80 hours of educational content), a secure, easy-to-mod private Minecraft server, and, of course, access to web-based Minecraft mod editors.