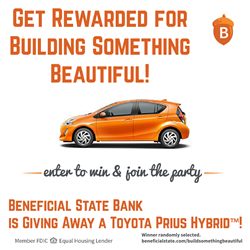 Oakland, CA (PRWEB) August 03, 2016
Beneficial State Bank (Beneficial State) is growing to serve more communities and increase its positive impact throughout California. This August, Beneficial State is bringing together customers, friends, and partners to celebrate its recent merger with Pan American Bank, at each branch in the Central Valley and Los Angeles. Tom Steyer, Co-Founder and Chairman stated, "Beneficial State Bank is growing fast, and this means California families from Los Angeles to Bakersfield to Sacramento can now access our fair and affordable banking services. Kat and I cannot wait to celebrate these new branches with our community members. Together, we can build something beautiful."
As a thank you for welcoming Beneficial State into the Central Valley and Los Angeles communities, the B Corp-certified bank is giving away a Toyota Prius Hybrid™ to an individual who is working hard to Build Something Beautiful for their family or community. "We are thrilled to reward a deserving individual with an energy efficient vehicle! Providing families with access to environmentally friendly transportation options in communities where public transportation systems do not completely serve their needs is core to our mission and underscores why we merged with Pan American Bank", added Kat Taylor, Co-Founder, and Co-CEO of Beneficial State.
Beneficial State's recent merger allows the approximately $650 million asset bank to better meet the needs of underserved communities in the Central Valley and Los Angeles with financial products and services that foster healthy financial growth. Over the past few years, the combined bank has provided approximately 40,000 small dollar loans to families in the Central Valley and Los Angeles and deployed approximately $375 million in loans to mission-aligned organizations throughout California, Oregon, and Washington. "We are embarking on an exciting moment in our journey. We are bringing together extraordinary talent and partnering with innovative companies that provide forward-looking technology to deliver beneficial banking products and services to all families throughout California, Oregon, and Washington," added Dan Skaff, Beneficial State Co-CEO, and President.
The community celebrations will take place in Bakersfield, Porterville, Fresno, Visalia, East LA, North Hollywood, and Modesto.
Entry period ends on August 31, 2016, at 11:59pm. Must be 18 years or older to win. No purchase or payment necessary to win. The winner will be selected on or about September 6, 2016.
###
About Beneficial State Bank
Beneficial State Bank is a social enterprise bank founded in 2007 with a triple-bottom-line focus of social justice, environmental resilience, and economic sustainability. Beneficial State is a state-chartered, federally regulated, for-profit banking organization whose economic interest is owned entirely by a non-profit foundation of the same name. Beneficial State is mandated to produce meaningful social justice and environmental benefits in an economically sustainable manner. In December 2010, it acquired ShoreBank Pacific. The merger greatly expanded the Bank's reach on the West Coast and enhanced its capacity to serve its mission. ShoreBank Pacific, a pioneer of environmentally sustainable banking, served both Washington and Oregon. The joint forces produced an enlarged footprint covering a bio-regional territory some call the Salmon Nation and united the synergies of social justice and ecological banking. A few years later in October 2013, Beneficial State Bancorp completed a stock purchase transaction of 90% of Albina Community Bank, bringing a Portland-based community bank that has been investing in individuals, families, businesses, and local neighborhoods for over 20 years, into their family. In June of 2016, Beneficial State Bank acquired Pan American Bank. The combined 12-branch network now serves the California communities of Oakland, Santa Rosa, Sacramento, Los Angeles, Bakersfield, Fresno, Porterville, Visalia, Modesto and additionally Portland, Oregon, and Seattle, Washington.
Beneficial State, a community development financial institution, has been a certified B Corporation since 2013 and has been honored as "Best for the World," a designation reserved for the top 10% of all B Corps based on environmental, community and worker impact. Overall, Beneficial State is the #3 B Corp worldwide on the B Corp impact assessment. For additional information, visit http://www.beneficialstate.com.