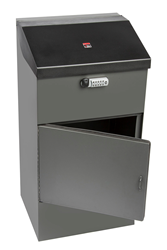 Chicago, IL (PRWEB) August 04, 2016
LT Distributing LLC today announced that they are officially an authorized distributor of Ring Video Doorbell, the leading smart video doorbell. LT Distributing LLC in conjunction with the iBin will provide a free Ring Video Doorbell with the purchase of an iBin. The combination of a Ring Doorbell and the iBin they will provide the ultimate in package theft protection and missed deliveries. Each year as online sales grow, so do package thefts. A report from insuranceQuotes.com released last year finds that an estimated 23 million Americans have had packages stolen from their homes. Consumers have expensive products delivered to their homes, ranging anywhere from electronics to medicine. With the use of an iBin and Ring Video Doorbell packages will be delivered safe and secure every time, and hidden from the eyes of porch pirates.
Ring, a Wi-Fi connected, HD video doorbell, enables customers to monitor their front doors from anywhere via the free Ring app (iOS, Android, Windows 10). It is common for burglars to first knock and/or ring the doorbell to see if someone is home before breaking in. With Ring, homeowners can see and speak with whoever is at their door, giving potential intruders the impression they are home, even when they are not. If a visitor does not physically press Ring's button, built-in motion sensors detect movement, trigger instant mobile alerts and initiate HD video recording.
About The iBin
The iBin is a secure, re-lockable, weatherproof delivery drop box for home or business use. iBin was first created in England to help curb package theft. Due the dramatic increase in package theft and or missed deliveries in America, LT Distributing brought the iBin to America. It has a digital locked that can be programed for multi courier deliveries, and or pickups. Simple to use instructions come with each iBin. The consumer enters the iBin code in the shipping label under address number two, so the courier can easily unlock and delivered packages. The American version of the iBin includes a built in swing out hanger to accommodate the ever increasing pickup and delivery of dry cleaning. 50% of package thefts are crimes of opportunity, so having packages delivered into a secure iBin takes away that opportunity.
About Ring:
Ring's mission is to reduce crime in neighborhoods and empower consumers by creating a "ring" of security around homes and communities. Named one of USA Today's Top 10 Tech Innovations of 2015, the Ring TM Video Doorbell offers a unique security solution that enables homeowners to keep an eye on and protect their homes from anywhere. While Ring Video Doorbell and the new, soon-to-be HomeKit-enabled Ring TM Video Doorbell Pro create a ring of security around users' front doors, the company's wire-free, outdoor security camera, Stick Up Cam, extends that ring to secure the entire home. With these products, Ring has created the neighborhood watch for the digital age and continues to prevent burglaries and keep homes around the world safe.
For more information about this winning combination of The iBin and Ring Video Doorbell visit - http://www.ltdistributing.net