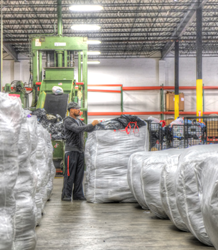 Elkridge, Maryland (PRWEB) August 02, 2016
International nonprofit Planet Aid announced today that it has collected more than 1 billion pounds of clothing since its inception in 1997. The organization collects the clothing and other textiles through its nationwide network of 20,000+ yellow drop-off bins.
For every pound of textile waste diverted from disposal approximately 6 pounds of carbon is prevented from entering the atmosphere. The savings is due to reduced carbon emissions from landfills and the from the savings that result from having to produce fewer items of new clothing. By having saved 1 billion pounds of clothing from disposal, Planet Aid has saved approximately 6 billion pounds of carbon from entering the atmosphere.
Planet Aid's ubiquitous yellow drop-off bins have become a symbol of textile recycling in the United States, reminding consumers that the clothing they no longer want can have a second life.
"We are proud of reaching the one billion pound mark ," said Ester Neltrup, Planet Aid President, "but there is so much more work to do. Americans still only recycle 15% of unwanted clothing, with about 12 million tons still being tossed into landfills every year. Faced with the challenge of increasing consumption patterns, we must work harder to prevent more clothing from being needlessly wasted."
According to the Council for Textile Recycling consumption of textiles in the United States is expected to continue trending upward and so is the associated waste. As is the case with any type of recycling, the rate at which consumers are willing to recycle versus throw something away is a function of how convenient it is to drop it in a recycling bin. Planet Aid owes its success to a strategy that is centered on increasing convenience. The organization has worked with thousands of local businesses, schools, local governments, and other organizations, developing partnerships to site bins in places where they can be easily accessed by the public. It has also helped increase recycling consciousness by educating the public through its online presence and by offering recycling presentations.
About Planet Aid
Planet Aid is a U.S. 501 (c)(3) nonprofit and is registered with USAID as a private
voluntary organization. Accredited by the Better Business Bureau's Wise Giving Alliance, Planet Aid collects and recycles used clothing and shoes as part of its environmental mission. The net proceeds from its 21-state recycling operation help to support projects aimed at eliminating poverty. Planet Aid supports programs in education, teacher training, nutrition and agricultural and economic development.