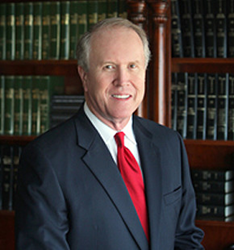 "My life, both legally and personally, has been driven by the motto that when someone says 'I need help,' that is a call to action."
(PRWEB) August 02, 2016
Texas Lawyer magazine annually recognizes lawyers who made their mark on the legal profession through their extraordinary careers. The publication's September issue will include full profiles of the honorees, and they will be honored with an awards ceremony at the Belo Mansion in Dallas on September 13.
Bailey was one of only 18 lawyers named to 2016's list of Lifetime Achievers. "I want to thank Texas Lawyer for this recognition," Bailey said in a written statement. "I am honored and humbled to be included in a list of distinguished legal colleagues who I know either personally or professionally."
Bailey founded the law firm that is now Bailey Peavy Bailey Cowan Heckaman (BPB) in 2005 after spending years representing victims suffering from cancer and other lung injuries caused by asbestos exposure, persons injured by explosions and prescription drugs, and representing state governments against companies attempting to fleece state coffers. Most notably, Williams Bailey Law Firm, of which Bailey was a founding partner, represented the State of Texas against Big Tobacco along with four other law firms in 1997. The legal team successfully secured the then-largest multi-billion dollar settlement in the history of the United States, totaling $17.3 billion.
"Over the past 44 years, I have met so many good and wonderful people who needed assistance," said Bailey. "My life, both legally and personally, has been driven by the motto that when someone says 'I need help,' that is a call to action. I hope I am being honored with this recognition for my assistance to those who have asked me for help. I also hope that my relationships, both as a lawyer and a friend, were beneficial for the people I have counseled throughout my career."
Bailey's success continues at BPB, having secured hundreds of millions of dollars in settlements and verdicts since the firm's doors opened over a decade ago, including the recent recovery of hundreds of millions of dollars for victims injured by false and misleading antipsychotic drug marketing practices. His firm continues to litigate against major drug companies and others that profit from selling dangerous products to unknowing consumers. BPB is also a nationally leading firm representing injured and dying victims of asbestos exposure.
BPB is a trial-ready and tested firm passionate about fighting for the underdog. With decades of experience, the attorneys at Bailey Peavy Bailey Cowan Heckaman have built a reputation of grit and tenacity in the courtroom, as well as care, concern, and quality service for its clients.
Contact Bailey Peavy Bailey Cowan Heckaman directly by calling us at (888) 367-7160, or visit our website at https://www.bpblaw.com.