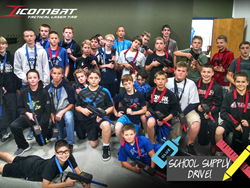 "It's really just an easy way to help the community that we live in and love."
Waukesha, Wisconsin (PRWEB) August 03, 2016
iCOMBAT is continuously supporting and promoting local community projects around the iCOMBAT fields. One of many local outreach programs supported by iCOMBAT is an annual month-long School Supply Drive.
This year, iCOMBAT has partnered with the Waukesha Backpack Coalition to benefit them from the School Supply Drive. The Backpack Coalition, supported by local volunteers and organizations, provides backpacks and school supplies to students with financial constraints in Waukesha County.
Each year, the Backpack Coalition collects, packs and distributes around 2,000 backpacks full of grade appropriate school supplies. Helping kids participate and succeed in school is the main goal of the Coalition.
"iCOMBAT pairing up with the Waukesha Backpack Coalition was an absolute no-brainer," said Bryan West, Regional Operations Manager of iCOMBAT. "We are really excited for this opportunity to not only work with a great local organization, but to give back to a community that gives to everyone."
Collection barrels will be at the Waukesha and Madison iCOMBAT fields throughout the month of August. To sweeten the deal, iCOMBAT is also offering a great incentive for donating desperately needed school supplies. With the donation of 3 school supply items, iCOMBAT will take $5 off any session. Care to donate more? 6 items will get you $10 off!
"It's really just an easy way to help the community that we live in and love," West continued. "Most people are looking for a simple way to give back, and every single bit, even just a few school supplies, can make a huge difference in a child's life."
For a list of supplies needed including unused backpacks, notebooks, scissors and more, visit http://www.backpackcoalition.org and visit http://www.iCOMBAT.com for location information!