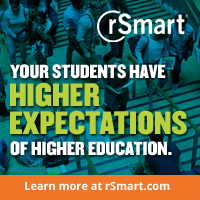 We recognized that today's students are tech experts. They are accustomed to and expect to have quick and easy access to the tools they need and the information they want.
Scottsdale, AZ (PRWEB) August 04, 2016
Southern Illinois University Carbondale (SIU Carbondale) has selected OneCampus from rSmart, an Internet2 NET+ offering, to modernize the way students, faculty, and staff find and access campus services, information and applications from any device. OneCampus, a service discovery portal with lightweight technology designed to help schools move away from heavy, expensive, locally-managed software, was selected by SIU to serve more than 22,000 students, faculty and staff.
Founded in 1869 as the state's second teachers college, SIU Carbondale is a nationally ranked public research university and regional economic catalyst that embraces a unique tradition of access and opportunity, inclusive excellence, innovation in research and creativity, and outstanding teaching focused on nurturing student success.
OneCampus provides colleges, universities and school districts with an innovative solution for organizing their web-based services, giving students, faculty and staff swifter access to campus services such as grades, calendars, email, events, curriculum, tutoring services, and much more. SIU Carbondale is accessing OneCampus through Internet2 NET+ -- a research and education (R&E) community-driven initiative in which institutions and cloud service providers work through a rigorous peer-driven evaluation process to develop offerings that maximize deployment efficiencies and minimize the business and legal challenges, financial costs, and technology risks of migrating from on-campus to cloud-based solutions.
John D. Ahrens, director of enterprise applications at SIU Carbondale explained, "We recognized that today's students are tech experts. They are accustomed to and expect to have quick and easy access to the tools they need and the information they want. In this age of mobility, they also want it right now -- on their phones, not to mention on all of their other devices. The OneCampus solution, branded as SalukiNet here at SIU Carbondale, gives us the ability to consolidate complex campus functions in one convenient place."
Unlike traditional portals, OneCampus features a Google-like search, ratings/reviews to effectively analyze what services are being used and satisfaction levels, and dynamic categories such as "most popular" to promote service discovery. Administrators can also convey important, time-sensitive information to a large audience through announcements, alerts, and featured tasks.
OneCampus connects with an institution's campus authentication system and sits on top of existing systems, directing users to disparate services through a centralized point, without affecting the underlying business units or processes. As a result, its implementation as well as ongoing updates are fast and easy, and the responsibility of maintenance can be shared by various stakeholders. OneCampus has powerful APIs that allow other applications to easily push data from popular campus systems such as SIS, LMS or finance system.
rSmart CEO Tony Potts added, "Progressive schools such as SIU Carbondale are searching for a cost-effective replacement for their legacy portal that offers a dynamic approach to meeting the needs of their current and future students. Students today have higher standards and they expect applications that 'just work.' They want technology that fits their lifestyle and doesn't slow them down. SIU has taken the step to support their students and faculty with OneCampus. rSmart is thrilled to welcome SIU to the growing community of OneCampus users."
The OneCampus Internet2 NET+ service is the result of the collaboration between seven universities, Internet2, and rSmart to provide a unique offering to the higher education community. Technology leaders from Indiana University, University of Utah, University of Maryland, University of Pittsburgh, Clemson University, University of Nebraska-Omaha, and BYU-Idaho helped guide and shape the validated solution.
Since bringing this next generation portal to all higher education institutions, rSmart has worked with dozens of schools across the nation to deploy OneCampus. Adopting institutions and members of the advisory board play in a key role in refining the product roadmap and sharing best practices.
To learn more about OneCampus or to request a demo, visit https://www.rsmart.com or call 866.874.4338.
About Southern Illinois University Carbondale
Established in 1869, Southern Illinois University Carbondale is a public research university and the flagship campus of the Southern Illinois University System. The university has eight undergraduate schools and offers around 200 majors, minors and specializations, 70 master's and 31 doctoral programs, in addition to professional degrees in law and medicine. A large research university with more than 17,000 undergraduate and graduate students from all 50 states and more than 100 countries, SIU Carbondale is among the top 5 percent of all U.S. higher institutions for research. In each of the last three years, SIU has earned a spot in the Center for World University Rankings, which recognizes the top 2.5 percent of the world's institutions of higher learning from more than 25,000 universities reviewed based on the quality of education, student training, the prestige of faculty members and the quality of faculty research. The campus is adjacent to the 240,000-acre Shawnee National Forest, near two state parks, the Crab Orchard National Wildlife Refuge and four large recreational lakes.
About Internet2
Internet2® is a member-owned advanced technology community founded by the nation's leading higher education institutions in 1996. Internet2 provides a collaborative environment for U.S. research and education organizations to solve common technology challenges, and to develop innovative solutions in support of their educational, research and community service missions.
Internet2 also operates the nation's largest and fastest, coast-to-coast research and education network, with Internet2 Network Operations Center powered by Indiana University. Internet2 serves more than 90,000 community anchor institutions, 317 U.S. universities, 70 government agencies, 42 regional and state education networks, 80 leading corporations working with our community and more than 65 national research and education networking partners representing more than 100 countries.
Internet2 offices are located in Ann Arbor, MI; Denver, CO; Emeryville, CA; Washington, DC; and West Hartford, CT. For more information, visit http://www.internet2.edu or follow @Internet2 on Twitter.
About rSmart
For more than 15 years, rSmart has been changing the way higher ed thinks about technology by delivering solutions that reduce costs, improve productivity, and simplify the user experience. The OneCampus product is a lightweight, mobile-friendly technology that makes finding campus services faster and easier than ever. rSmart is privately held and headquartered in Scottsdale, AZ. To learn more, visit https://www.rsmart.com.