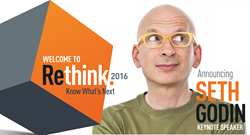 We love this chance to show the latest innovations in the industry and it never fails to inspire conversation, creativity, and ideas.
Dayton, NJ (PRWEB) August 02, 2016
Impact XM has confirmed speakers for Rethink 2016, its Innovation Conference for events, on August 3rd at the Westin Princeton in Princeton, New Jersey.
"We have raised the bar for the 13th year of Rethink. This will be the highest attended Rethink we've ever had. We are looking forward to our engaging speakers, our innovative tech fair events, and getting the opportunity to spend quality time with our customers," said Impact XM President, Jared Pollacco.
Author, Tech Entrepreneur, and Philanthropist, Seth Godin, is Rethink 2016's Keynote Speaker. Seth was recently inducted into the Direct Marketing Hall of Fame. He has written 18 books about marketing, leadership, and the way ideas spread. Several of his books have become international bestsellers, and his work has been celebrated by such top media outlets as Bloomberg Businessweek, Forbes, Amazon, and Fast Company.
Rethink 2016 will open with host Kristyn Burtt, Columnist and Host of Hollywood Happy Hour.
David Solomons is one of the world's leading experts on Cultural Intelligence, David has delivered papers, lectures and speeches on cross cultural and human understanding throughout the world, including being a regular participant at the world renowned Conference for World Affairs in Boulder, Colorado.
Natalie W. Nixon, Ph.D is Director of the Strategic Design MBA Program at Philadelphia University, and has 15 years of experience as an educator on the secondary and university levels and worked in the fashion industry as an entrepreneur. Nixon's research and consulting interests are in integrative strategic design, experiential service design and applying strategies from the fashion industry to a range of sectors, utilizing style as a competitive advantage in order to build brand distinction.
Dr. Will Miller is an adjunct professor of Communication Ethics for Purdue University, the official psychotherapist for the nationally syndicated Bob & Tom radio show. He also has a unique background as a professional standup comedian, television personality, psychotherapist, educator, and best-selling author of Refrigerator Rights. He also has five graduate degrees.
The afternoon will conclude with a Tech Fair, touching on topics such as Virtual Reality, Holographic Displays, and 3D Interactives and many more tools to drive engagement at events and trade shows.
"We love this chance to show all of our clients and friends the latest innovations in the industry and it never fails to inspire conversation, creativity, and ideas," said Executive Vice President Sandie Stransky.
For more information, please contact Sandie Stransky for more information at 732.274.2000 x221.
# # #
About Impact XM (http://www.impact-xm.com)
Impact XM is a global experiential marketing agency with a forty-year heritage of crafting strategic audience engagements that power brand experiences. Headquartered in New Jersey, Impact XM also maintains locations in Toronto, Chicago, Las Vegas, Los Angeles, San Francisco, and Zurich.
With Impact XM, you own the moment. Deep, meaningful connections that tell your story like never before. From standout environments to breakthrough engagements, spot-on strategies to actionable analytics, we pour our hearts and smarts into helping you capture imaginations along with loyalty. We're a global innovator with a reputation for thinking farther, faster. Impressions matter. Impact matters more.