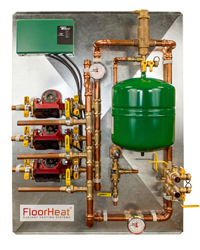 Modular Distribution Panels for Hydronic Heating Systems Save Time and Money
Lansing, MI (PRWEB) September 14, 2016
FloorHeat announces new one-, two-, and three-zone distribution panels that are compact, complete, and ready to install with no soldering required. Panels are modular in design and easily expandable for heating zones added in the future.
Circulation pumps, switching relays, valves, air eliminators, and pressure regulators are of the highest quality and backed by manufacturers' warranties.
The panels are assembled on a sturdy galvanized steel backing and utilize copper pipe with superior crimped—not soldered—joints for stronger, leak-proof connections.
FloorHeat panels save hours in planning, sourcing, and installing separate components on the job site. All panels are thoroughly pressure tested and packed in sturdy containers before shipping.
FloorHeat was founded in 2003 and is located in Lansing, MI. We are manufacturers and distributors of quality products for hydronic and electric floor heating systems.
For additional information, please visit... getfloorheat.com