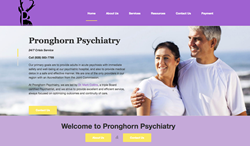 We want to be as accessible a resource as possible for people searching for information about the services we offer, and our website now accomplishes that objective with consistency, no matter the screen size or type of device used
Prescott Valley, Arizona (PRWEB) August 12, 2016
Pronghorn Psychiatry, a Joint Commission Accredited Prescott Valley Detox Facility and Hospital, recently launched a new responsive, resource-rich website at http://www.pronghornpsych.com. Along with information on the services offered, the new site features easy-to-access contact information, along with integration with Pronghorn Psychiatry's social media properties.
"Our goal with this new website is to be more representative of the kind of experience patients and their families can expect from Pronghorn Psychiatry," says Medical Director Dr. Mark Collins. "New images, softer branding and an updated color template help bring to life the compassion of our staff, and illustrate how mental illness and substance abuse affect every segment of the population."
The relaunched http://www.pronghornpsych.com includes an online payment portal through PayPal, making the process of remitting payments fast and easy. According to Dr. Collins, the website will be an ever-evolving library of content about the conditions treated and services offered at Pronghorn Psychiatry.
Those services include court ordered evaluations, detox, medical detox, psychiatric stabilization, alcohol detox, heroin detox, opiate detox, drug withdrawal treatment, alcohol detox, neuro psychiatry, and inpatient psych services.
Pronghorn physicians are board certified, with extensive experience in managing patients suffering from a wide variety of psychiatric conditions as well as substance related illnesses, which may require hospitalization. Pronghorn Psychiatry specializes in mental crisis situations in which fast accessibility to information is critical.
"Visitors to our site will continually see new information and features," says Dr. Collins. "We want to be as accessible a resource as possible for people searching for information about the services we offer, and our website now accomplishes that objective with consistency, no matter the screen size or type of device used."
Prescott Valley detox center Pronghorn Psychiatry's new website was designed by digital marketing agency Access Publishing.
About Pronghorn Psychiatry
Like our namesake, the Pronghorn, the Pronghorn Psychiatry team of board certified physicians prides itself on being quick, adaptive, agile, nimble, and resourceful. Pronghorn Psychiatry is accredited with the Joint Commission for Hospitals, the medical industry's oversight for treatment, care, services, and safety. The Gold Seal of Approval given to Pronghorn Psychiatry indicates our position among the very best in our field of behavioral medicine.
Pronghorn Psychiatry
5940 E. Copper Hill Dr, Suite B
Prescott Valley, AZ 86314
Phone: (928) 583-7799