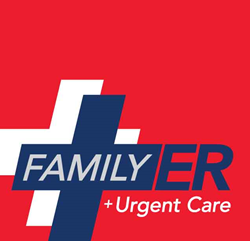 Irving, TX (PRWEB) August 03, 2016
Family ER + Urgent Care announced today that it has completed its acquisition, in two separate transactions, of Texas Emergency Care Centers (TECC) and ER Centers of America (ERCA). Dedicated to providing high quality, fairly priced emergency and urgent care services, the combined company will have five (5) facilities in the Dallas, Houston and Lubbock metropolitan areas offering emergency room services, and one facility in the Dallas metropolitan area offering both emergency room and urgent care services. Each of the emergency room facilities is licensed by the State of Texas, Joint Commission and Commission on Office Laboratory Accreditation (COLA) accredited and Clinical Laboratory Improvement Amendments (CLIA) certified.
"Family ER + Urgent Care, ERCA, and TECC were each founded upon a commitment to excellence in patient care and satisfaction," says Scott Pickett, Chief Executive Officer of Family ER + Urgent Care. "It was only natural that they would come together to establish a more comprehensive model to meet the unscheduled healthcare needs for our communities, whether emergent or urgent care."
Each of the company's facilities will continue to operate under their current names. "The highly trained and extensively experienced personnel at Family ER + Urgent Care, TECC and ERCA are committed to providing the highest quality of care to our patients," says Rhonda Sandel, previously Chief Executive Officer of TECC and now Chief Operating Officer of the combined company. "Every one of our facilities is focused on improving the health of our local communities and the advancement of the healthcare industry as a whole. We are excited about growing in this industry together."
The acquisitions were financed primarily by Dos Rios Partners, a Texas-based private investment firm. "Our country's healthcare system is changing and we saw Family ER's hybrid ER and urgent care strategy as a compelling investment opportunity," says Jay Turner, Managing Director at Dos Rios Partners. "We are gratified to be able to assist in bringing together these companies and their teams to execute a growth strategy focused on meeting patients' unscheduled healthcare needs."
About Family ER + Urgent Care
Family ER + Urgent Care, located in Irving, Texas on MacArthur Boulevard, offers Emergency Care for children and adults, 24 hours a day, 7 days a week. Urgent Care is available from 8:00 a.m. – 8:00 p.m., Monday through Saturday, and noon – 8:00 p.m. on Sundays. Visit http://www.FamilyER.com for more information.
About ERCA
Founded by Dr. Michael Kutsen and John McGee, ER Centers of America (ERCA) has been providing emergency care to patients since January 2008. At ERCA, its physicians aim drastically reduce the wait time so that its patients can see a physician and start the healing process immediately. ERCA provides emergency services for patients with chest pains and heart attacks, cardiac resuscitation, defibrillation and intubation, respiratory distress, deep vein thrombosis, pulmonary embolism, abdominal pain and fevers, lacerations, sprains, bruises, strains and general pain. It also provides emergency medical services including CT scans, digital x-rays, laboratory and diagnosis tests, EKG and cardiac enzyme analysis and even ultrasounds. No matter the emergency situation, ERCA can help locate the issue and get its patients on the road to recovery immediately. Visit http://www.ERCenters.com for more information.
About TECC
Texas Emergency Care Centers (TECC) is a licensed, free-standing emergency room facility with locations in Pearland, Cypress and Atascocita. TECC in 2006 and was instrumental in getting legislation passed to require licensure for Freestanding Emergency Centers in Texas. Physicians are board certified or board eligible in emergency medicine and locations are open 24 hours a day, seven days a week. TECC facilities and its physicians are in—network with more than 150 provider plans. For more information about Texas Emergency Care Centers, visit http://www.txercare.com.