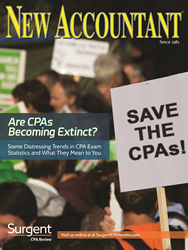 Discover the nine-step program where highly motivated accounting students can pass the CMA exam before graduation
Chicago, Illinois (PRWEB) August 04, 2016
New Accountant Magazine, the trusted professional journal for college accounting students since 1985, has released the latest issue, available both in print and online.
The featured cover story is "Are CPAs Becoming Extinct? Some Distressing Trends in CPA Exam Statistics and What They Mean to You" by Liz Kolar. She outlines a disturbing trend of data that has emerged regarding participants who have dropped from completing the CPA Exam. Kolar notes that this significant decline is due to the difficulty of the CPA Exam, the study time required to prepare for the CPA Exam, and work conflicts with study time.
To help students with passing the CPA Exam, Kolar teamed up with Jack Surgent of the Surgent CPA Review team to fix this problem. The team built an adaptive learning platform that "does the work of identifying the specific content that each student needs to study (based on their unique strengths and weaknesses, as well as AICPA weighting)—saving literally hundreds of hours of study time."
To continue with CPA Exam help, "Double Up And Stand Out" by Professors Joseph M. Hargadon of Widener University and Professor Lori R. Fuller of West Chester University, outline their nine-step program to help students pass the CMA Exam before graduation and the CPA within six months after graduation.
Brian Wilson of St. Cloud State University writes "Additional Accounting Certifications". In this article Wilson discusses the specialty certifications that one can pursue in addition to a CPA and CMA.
"Certified accountants are increasingly utilized for top to bottom organizational design &, implementation of internal controls to reduce risk and gather reliable information for sound decision making," according to Steven N. Polydoris, Editor & Publisher of New Accountant.
Featured advertisers include American Institute of Certified Public Accountants, Bay Path University, Colorado State University, Institute of Management Accountants, Lambers, Nichols College, Northern Arizona University, Post University, Thomson Reuters CheckPoint Learning, University of California - Riverside, University of Illinois, Isenberg UMASS Amherst, University of South Dakota, University of Washington - Tacoma, Villanova Business, Western New England University & WeiserMazars LLP.
About: Published since 1985, New Accountant is a professional print and online publication edited for college accounting students and accounting professionals to prepare for a career in accounting, auditing, and all aspects of the profession. For more information, visit http://www.NewAccountantUSA.com, email inquiries(at)newaccountantusa(dot)com.