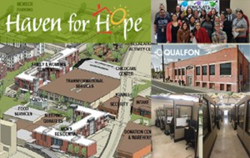 Haven for Hope is in the business of transforming lives. That's why it's so important to have the opportunity for meaningful work located right on the Haven for Hope campus.
San Antonio, Texas (PRWEB) August 03, 2016
Qualfon, a mission-driven business process outsourcing (BPO) company and global provider of contact center services, and Haven for Hope have formed a business alliance that is helping people in San Antonio, Texas move beyond homelessness. Haven for Hope, a campus of new beginnings for men, women, and children experiencing homelessness, provides housing programs and social support services to help people address the root causes of homelessness. Meanwhile, Qualfon's contact center provides job opportunities for Haven for Hope residents. As a part of the alliance, Qualfon and Haven for Hope held a tour event in July that offered an inside look at how the partnership works. The event included presentations, site tours, and testimonials from graduates who have used the program to establish financial stability and move away from the Haven campus support network.
"Over the past two years, we've witnessed multiple people reach a state of continued independence by following a career pathway that Haven for Hope and Qualfon pioneered together. Through our partnership, we piloted and perfected this program, and this event allowed people to walk in the shoes of a person struggling with homelessness to see for themselves how this alliance is making a positive impact," said Kenneth Mitchell, Director of Employment Readiness, Haven for Hope.
"We wanted to tell the story of what is possible when people come together believing in hope and working in unison to make peoples' lives better," said Steve Tatarian, V.P. of Operations, Qualfon San Antonio. "We wanted to celebrate the freedom, dignity, and pride these graduates have worked hard to achieve, but we also hope others will run with this idea of contact centers and social services working together. This alliance has the potential to be something much bigger than what it is today and could have a much wider sphere of influence. By sharing our operating model, we wanted to inspire additional alliances and support others who seek to transform lives through similar concepts."
At the contact center, Haven for Hope members work alongside Qualfon employees to provide customer service on behalf of Qualfon's clients. While Haven for Hope identifies motivated, prospective employees for the contact center, Qualfon offers career opportunities that can pave the way toward a new chance at life.
"The contact center has been good for people and good for business. It delivers high-quality service at or above client performance goals, and it enables people to build a more self-sustaining existence," said Tatarian.
Attending the July tour event was Michael DeSalles, Principal Analyst with Frost & Sullivan, who tracks outsourcing companies based in North America. He said, "Haven for Hope is in the business of transforming lives. That's why it's so important to have the opportunity for meaningful work located right on the Haven for Hope campus. Customer care seems like such a natural career fit for Haven for Hope members. I think this is a terrific marriage of occupational job placement, coupled with Qualfon's mission and corporate social responsibility commitment."
Learn more about the Haven for Hope and Qualfon alliance program.
ABOUT HAVEN FOR HOPE
Haven for Hope is an independent, nonprofit organization with the mission of transforming and saving the lives of persons who are experiencing homelessness in Bexar County. Beyond shelter, food, clothing and a wide array of social services in one location, Haven for Hope provides individuals and families with the resources, skills and assistance needed to become self-sufficient. Since opening in April 2010, nearly 3,000 individuals have graduated from Haven for Hope and moved from homelessness to permanent housing. For more information on Haven for Hope, visit http://www.HavenforHope.org.
ABOUT QUALFON
Qualfon is a mission-driven business process outsourcing (BPO) company and a global provider of contact center services and back-office processing. With experienced BPO leadership and a strong track record of business growth dating back to our founding in 1995, Qualfon helps companies reduce costs and deliver superior customer experiences. Today, we have approximately 12,000 employees serving international brands across many industries, and our intelligent outsourcing locations span the United States, the Philippines, Guyana S.A., and Mexico. Qualfon's mission to "Be the Best BPO, Make People's Lives Better" means we invest in our people and, in return, they take better care of you and your customers. Qualfon's employee retention regularly exceeds the industry average, which creates a people-driven value chain: Our employees stay longer, providing you a higher quality service at a lower price. http://www.Qualfon.com