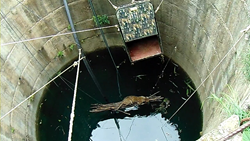 We often hear stories of these animals being poached for their skins, poisoned, even set on fire. So it's deeply heartening to see a community pull together and save a predator.
Pimpalgaon Siddhanath village, Maharashtra, India (PRWEB) August 03, 2016
Early Sunday morning, a Pimpalgaon Siddhanath village resident awoke to loud, panicked roars echoing from an open well close to his home. The man was shocked to see a leopard struggling to keep her head above water nearly 60 feet down the well. He immediately contacted the Maharashtra Forest Department, who in turn placed an emergency call to the nearby Manikdoh Leopard Rescue Center, run by wildlife-conservation group Wildlife SOS.
"The leopard was in a state of panic and had to be rescued immediately," the center's senior veterinarian, Dr. Ajay Deshmukh, told the Indian Express (http://indianexpress.com/article/cities/pune/leopard-rescued-from-60-foot-deep-well-in-junnar-2948625/). Deshmukh led a three-member with six Forest Department officials to the location, and, with the help of concerned villagers, lowered a platform of wooden planks to get the cat clear of the water. A container was then lowered, and the terrified leopard was lifted out safely—a storybook ending to what was likely an otherwise-fatal situation.
Watch the dramatic video here: https://www.youtube.com/watch?v=1f-VzIDygbo
"After conducting a through physical examination, we concluded that she was healthy and fit for release," said Deshmukh.
"It's striking to see so many people working together to save a trapped leopard," said Wildlife SOS Executive Director Nikki Sharp. "We often hear stories of these animals being poached for their skins, poisoned, even set on fire. So it's deeply heartening to see a community pulling together to help a predator. We've been working very hard in this area to help educate people about wildlife. We hope this is a sign that the awareness program is paying off."
Wildlife SOS cofounder Kartick Satyanarayan told India today that it was "a critical situation" (http://indiatoday.intoday.in/story/drowning-leopard-rescued-from-60-feet-deep-well-in-maharashtra/1/729524.html), and also expressed gratitude to the Forest Department for their cooperation—and for helping manage a large crowd that had gathered to catch a glimpse of the trapped animal. Satyanarayan said that leopards are often spotted in the area, and use nearby sugarcane fields as cover because they "are struggling to find a foothold in the vanishing forests due to unwarranted invasion of their natural habitat."
Open wells are also a serious problem in India, according to Sharp, who said that Wildlife SOS has rescued dozens of leopards from them. And not just leopards. "We've rescued many different species of wildlife that have fallen in these wells," she said. "In one case a staff member had to climb 80 feet down a rope ladder to rescue a 10-foot python. Wells are a serious wildlife issue in India."
It is remarkable that the leopard survived her 60-foot fall uninjured and could be released. Wildlife SOS cares for more than 30 leopards at its Manikdoh facility, and many of them cannot be returned to the wild because of injuries.
"Going forward," said Sharp, "Wildlife SOS hopes to survey the area and procure grant funding to cover such wells."
--30--
For more information, please contact Wildlife SOS USA Communication and Development Specialist John Pecorelli by telephone at 801 / 750-0301 or by email at john(at)wildlifesos(dot)org.
About Wildlife SOS: Wildlife SOS is one of the largest rescue and conservation charities in South Asia, operating 10 wildlife rehabilitation facilities across India, including the world's largest sloth bear rescue center and the recently established Elephant Conservation and Care Center, which is the first in India and currently houses 22 rescued elephants. Wildlife SOS runs a tribal rehabilitation project that aims to create an alternative livelihood for poachers and other indigenous communities that once depended on wildlife for a livelihood. We also run a leopard rescue center, a wildlife hotline in New Delhi and Agra, and Forest Watch, which is an anti-poaching wildlife crime enforcement unit. More information about the organization can be found at http://www.wildlifesos.org. The U.S. branch of Wildlife SOS is based in Salt Lake City, Utah, ands received 501(c)3 charity status in 2005.