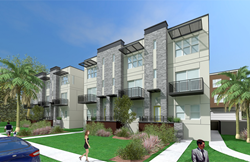 The Westshore Marina District development is an exciting addition to the neighborhood and will give residents at The Exchange access to urban amenities such as a public trail, waterfront dining and retail all within walking distance
Tampa, FL (PRWEB) August 26, 2016
Icon Residential Development recently broke ground on The Exchange at Westshore, a community of 33 contemporary townhouses featuring three 1,780 to 2,000-square-ft floorplans, priced from the upper $200s and into the mid $300s. The first residences are expected to be completed by early 2017 with the first residents moving in by Spring of 2017. Felicity Rollins with Crestview Realty Group is the exclusive agent selling the homes and the sales office is located at 4511 W Gandy Blvd in Tampa.
The Exchange is located off of Westshore Blvd in the rapidly developing South Tampa neighborhood adjacent to a new high density luxury mixed-use development, The Westshore Marina District. "The Westshore Marina District development is an exciting addition to the neighborhood and will give residents at The Exchange access to urban amenities such as a public trail, waterfront dining and retail all within walking distance," said Icon Residential Principal Mike Bednarski. Mike continued, "We specialize in developing attractively designed townhomes in desirable urban infill locations across the Southeast US. The Exchange at Westshore is part of the force transforming the neighborhood into an exciting live-work-play environment." Felicity Rollins, the exclusive agent for the community, said "We've hit an inflection point where it is a better value to buy than to rent. At The Exchange we are selling contemporary, attractively designed townhouses with well-designed floorplans for today's urban buyers, at a monthly cost comparable to a 2 or 3 bedroom apartment." She said "between the 33 townhomes in The Exchange at Westshore and the 1,000+ luxury mixed-use Westshore Marina District community, the immediate area will create the high-density critical mass and scale that will conceive another great South Tampa neighborhood."
About Icon Residential Development
Founded in 2009 in Tampa, FL by principals Mike Bednarski, Ryan Studzinski and Peggy Tseung, Icon Residential is a real estate investment and development company with a strong background in residential real estate investing, construction, brokerage and development. Icon embraces New Urbanist design principles, such as walkability for an active urban lifestyle, and promotes the opportunity for a "live, work, play" lifestyle. Icon's portfolio contains a growing collection of boutique urban communities that showcase the company's innovative approach to architecture, design and planning. Icon has offices in Tampa, Atlanta and New York. For information visit http://www.iconresliving.com or email info@iconresliving.com.