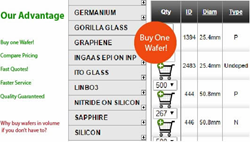 "The (silicon) wafers have arrived today, and we really pleased with them! Thumbs up to your production crew!" Researcher from University of Exeter
South Boston, MA (PRWEB) August 08, 2016
UniversityWafer, Inc. has been supplying researchers with the wafers they need in the quantities that they want for over 20 years!
UniversityWafer, Inc.'s new online store introduces single wafer purchasing for researchers. Why buy in volume if you don't have to?
One of the most tedious processes in supplying researchers with affordable silicon wafer and other substrates is quoting. In fact, it is so time consuming that most wafer supply firms won't even quote a job for a small run, never-mind a single wafer.
Most researchers have experienced being ignored. They send a request, then they wait for the quote that never comes. They then send a follow-up email.
And they wait some more.
Finally the researcher makes the phone call. When the researcher tells the wafer vendor that they just want one wafer they are either hung-up on or provided with a ridiculously high quote and long lead-items.
But there is hope!
UniversityWafer, Inc. was created to cater to the researcher who wants small quantities and short lead-times. UniversityWafer, Inc's professional staff is trained to handle even the most difficult low volume requests and we pride ourselves on fast responses and turnaround.
Some of what we have ready to ship
Silicon, undoped, highly doped and low doped
Silicon on Insulator
Gallium Arsenide Wafers
Borofloat 33 wafers
Fused Silica Substrates
Single Crystal Quartz Wafers
Gallium Nitride Wafers (GaN on Sapphire)
Sapphire Substrates
InGaAs Epi on InP
Thermal Oxide Coated Silicon Wafers (wet and dry)
Silicon Nitride coated silicon wafers
Silicon Carbide Substrates (SiC)
Solar Wafers
Indium Tin Oxide Coated Substrates (ITO)
Graphene Substrates
Super Thin Silicon Wafers 5 micron
Why buy in volume if you don't have to?
Chris Baker
President
http://www.universitywafer.com
Buy Online and Save!