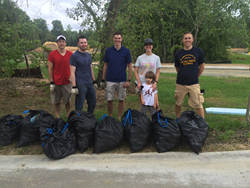 Durham, NC (PRWEB) August 11, 2016
Employees of the Law Offices of James Scott Farrin recently adopted mile 2 to 3 of the Walnut Creek Greenway Trail in southeast Raleigh near New Hope Road and the Walnut Creek Amphitheater.
Adopting the greenway is part of continued efforts by the firm's expanding Green Team in their pledge to "individually and collectively make the world a better place, do our part to reduce our environmental footprint, and strive to be increasingly conscious of the environment in everyday decisions."
The first trail clean up took place recently and yielded more than eight bags of trash and two tires.
Earlier this year, a group of James Scott Farrin volunteers teamed up with the Ellerbe Creek Watershed Association and Frog Hollow Outdoors to clean up part of Ellerbe Creek. The environmentally conscious volunteers navigated the creek in canoes and kayaks gathering about 30 bags of trash from the creek. Ellerbe Creek empties into Falls Lake and is one of the most significant sources of water for the City of Raleigh.
Internally, employees have been taking strides throughout the firm and within individual departments to recycle more and reduce paper consumption by transitioning some of their more paper-focused firm processes to electronic communications. Other firm efforts include:

Promoting recycling throughout the firm
Promoting alternative transportation by bringing in ridesharing representatives for onsite presentations
Using a car fleet with an EcoBoost option
Shredding documents through a service that recycles
Jacob Goad, James Scott Farrin paralegal and Green Team leader said, "We value the people of our community and recognize that we are citizens with a responsibility to take care of the earth, tread lightly, and try to do everything we can to work toward a better tomorrow for future generations."
ABOUT THE LAW OFFICES OF JAMES SCOTT FARRIN
The Law Offices of James Scott Farrin is headquartered in the American Tobacco Historic District, adjacent to the Durham Bulls Athletic Park, in Durham, North Carolina, with 13 additional offices statewide in Charlotte, Fayetteville, Greensboro, Greenville, Goldsboro, Henderson, New Bern, Raleigh, Roanoke Rapids, Rocky Mount, Sanford, Wilson, and Winston-Salem. The firm's 38 attorneys focus on the following practice areas: Personal Injury, Workers' Compensation, Social Security Disability, Eminent Domain, Intellectual Property, Civil Rights, Mass Torts, and Products Liability. Six of the attorneys are North Carolina Board Certified Specialists in Workers' Compensation Law and one is a North Carolina Board Certified Specialist in Social Security Disability Law. The Law Offices of James Scott Farrin is involved in the community, including sponsorship of local philanthropic organizations.