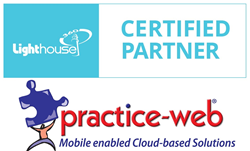 Sacramento, California (PRWEB) August 08, 2016
Practice Web, a leading mobile enabled Practice Management software company, is excited to announce their partnership with Lighthouse 360. This partnership will enable Practice-Web to bring Lighthouse's automated patient communication software to their customers.
Lighthouse 360 automates dentists' patient interactions and office routines such as appointment reminders, patient recall and reviews. Designed exclusively for dental practices, Lighthouse increases patient show rate, satisfaction and office efficiency. It helps dental offices streamline administrative tasks, allowing staff to accomplish more with less time.
About Practice-Web
Practice-Web is a full service EMR/EHR for the Dental Practice located in Sacramento, California serving hundreds of practices across the U.S. and Canada. Practice-Web, Inc. is committed to providing the most advanced practice-management solutions with integrated patient communications at an affordable price. Practice-Web has an experienced team of professionals offering outstanding customer service. In addition to the best value in software solutions, Practice-Web also provides office data- analysis tools, digital radiography systems and interfaces with several third-party systems, for a totally paperless solution. Practice-Web's support team has been providing dental software support since 1990. For more information, visit http://www.practice-web.com.
About Lighthouse 360
Yodle's product, Lighthouse 360, automates dentists' daily consumer interactions and office routines such as appointment reminders, leading to improved operational efficiency and business results. Lighthouse 360 features include phone, text, email and postcard appointment automation, reactivation letters, family messages, patient reviews, seamless practice management integration, all-day data synchronization, and more. Yodle serves dentists throughout the United States and Canada. Lighthouse 360 scored a 4.9/5.0 from current clients who were asked by Dental Product Shopper to rate and comment on their experience with the product. For more information about the Lighthouse 360 product, contact sales(at)practice-web(dot)com and (800)845-9379. Yodle is a Web.com company.