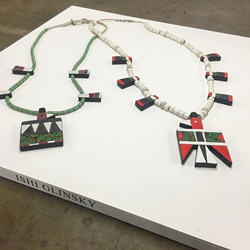 Santa Fe, New Mexico (PRWEB) August 03, 2016
Shiprock Santa Fe Gallery is pleased to announce its August 2016 artist openings, exhibitions and continuing lecture series. On August 13 from 5—7 p.m. Shiprock Santa Fe presents its Annual Opening Event with participating artist Ishi Glinsky. The exhibition features the gallery's finest selection of historic Native American art alongside a newly acquired collection of Depression-era Santo Domingo jewelry.
"A dear friend of the gallery, who in addition to collecting historic Native American jewelry also has one of the most discerning eyes for fine jewelry, fashion, and more, has graciously extended Shiprock Santa Fe the unique opportunity to represent her collection of Santo Domingo Pueblo Depression-era jewelry," said Shiprock Santa Fe Director Jamie Way.
During the Great Depression, many Santo Domingo jewelers, looking for less expensive and available materials, began making necklaces with found objects like plastic utensils, old records and black plastic from recycled car batteries to create traditional mosaic inlays. Originally the necklaces were very inexpensive; however, they have increased in value tremendously over the years and are now highly collectible pieces of Native American art.
Ishi Glinsky (Tohono O'odham) who lives and works in Los Angeles, California, is creating two monumental Santo Domingo Depression-era necklace sculptures, which will be exhibited alongside the Santo Domingo jewelry collection. Glinsky will also give an artist lecture— as a part of Shiprock's continuing lecture series— on August 12 at 1 p.m. in the gallery.
The following week, Shiprock Santa Fe will host its annual Indian Market Celebration on Thursday, August 18 from 2 p.m. to 4 p.m., welcoming back celebrity artists SONWAI and Ken Williams Jr. Williams and Sonwai have collaborated on a groundbreaking work that will certainly speak to the major institutions such as the Peabody Essex Museum and others who travel to Santa Fe for Indian Market specifically to purchase works for their collections.
For press inquiries, please contact:
Audrey Nadia Rubinstein
505.490.5029
Audrey(at)jlhmedia(dot)com
###
About Shiprock Santa Fe:
Shiprock Santa Fe gallery, based in Santa Fe, N.M., is one of the foremost galleries in the United States for Native American art, including vintage and contemporary jewelry, historic textiles, pottery, basketry and artifacts. Celebrating its 10th year on Santa Fe's historic Plaza, the gallery was founded by fifth generation expert Jed Foutz, who was raised on the Navajo Reservation in a family of traders. Foutz has a studied eye and impeccable aesthetic he uses to select the best Native American work, antique and contemporary, making him an important style resource for top fashion houses, designers, filmmakers, and renowned art collectors. Foutz has expanded his family tradition by incorporating Mid-­‐Century Modern furniture in his collection, which, with its fine design, materials and craftsmanship, complements and highlights the beauty and execution of works by known and unknown Native American artists. Foutz's mastery of Santa Fe and Southwestern styles has made Shiprock Santa Fe gallery a necessary stop on any trip to Santa Fe. The gallery's knowledgeable staff is well versed in Native American fine art and provides both acquisition and appraisal services, working with clients looking to acquire a single object or to build corporate or personal collections. For more information, please visit https://www.shiprocksantafe.com/.
###
About Ishi Glinsky:
Ishi Glinsky (Tohono O'odham) is a sculptor, painter and installation artist, who works and resides in Los Angeles, California. Inspired by materials, both industrial and organic, Glinsky's work is often formed through handmade methods. Each immersive installation, sculpture or painting, are investigations into permanence or continual evolution, all dependent upon the chosen material and its considered composition. While continuing to navigate through historical events and ephemera of North American Native tribes, in particular, that of his own tribe, the Tohono O'odham Nation, Glinsky's work is a fusion of intertribal celebration and material exploration.