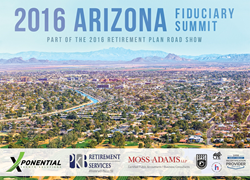 plan sponsors will appreciate the update on fiduciary best practices and guidelines to adopt right away to stay out of harm's way. We will explore best practices on fiduciary governance, the role of a fiduciary, and steps a fiduciary can take
Scottsdale, AZ (PRWEB) September 01, 2016
The 2016 Arizona Fiduciary Summit is an educational workshop that brings together both local and national expertise to interact with Finance, Human Resource, and Benefit executives, along with fiduciaries and Business Owners. The goal being to help employers reduce fiduciary risk, identify plan upgrades, and make better decisions that positively impact participants.
Paul Batt, Qualified Plan Specialist of PKB Retirement Services emphases, "With the regulatory onslaught by the Department of Labor, and numerous court cases settled in the past 18 months, plan sponsors will appreciate the update on fiduciary best practices and guidelines to adopt right away to stay out of harm's way. We will explore best practices on fiduciary governance, the role of a fiduciary, and steps a fiduciary can take to manage their responsibilities and risks. We will also focus on plan design strategies to improve your plan's performance and help your employees become more retirement ready. After all, the primary duty of the fiduciary is to act solely in the interest of plan participants and their beneficiaries for the exclusive purpose of providing benefits."
Local Expert Panelists:
Susan Mehlman, Director – National Tax/Compensation & Benefits – Moss Adams LLP
Theresa Conti, President – Sunwest Pensions
Anne Meyer, Partner – Snell & Wilmer
Topics of Discussion:
Empowering Your Employees with Financial Wellness
What Every Fiduciary Needs to Know
Ask the Experts – Local & National Professional Panel
Key Industry Trends Panel
RFP Best Practices
And more!
The 2016 Arizona Fiduciary Summit is a stop on the 2016 Retirement Plan Road Show and will be held at the W Scottsdale from 8:00 AM to 12:00 PM (breakfast will be served). The 2016 Arizona Fiduciary Summit is approved for 3 CPE/CPA credits, 3 HRCI general credits, 3 SHRM Professional Development Credits (PDCs), and is CEBS eligible. Seating is limited and local plan sponsors will receive priority registration. Additional details and registration information can be found on the registration page:
http://xgrowthsolutions.com/events/2016-arizona-fiduciary-summit/
About PKB
PKB Retirement Services is an Arizona based firm with a focus and passion on providing retirement plan services and strategies to plan sponsors in the Southwest. We work closely with our clients to: determine the appropriate retirement plan design for their company; create an investment lineup focused on enhancing participant outcomes; educate participants on the importance of saving for retirement; and safeguard plan sponsors from potential fiduciary liabilities.
About Xponential Growth Solutions:
Xponential Growth Solutions (XGS) unites 401(k), 403(b) and retirement plan sponsors with elite resources and exclusive connections. Through research, fiduciary summits, and industry expertise, they help the nation's retirement plan sponsors, fiduciaries, and trustees evaluate their plan and navigate the retirement plan industry.Working to help America reach their retirement goals one retirement plan at a time, XGS also founded the Retirement Plan Roadshow - a national series of fiduciary educational summits dedicated to human resources, finance and business professionals in charge of America's 401(k), 403(b), and retirement plans.