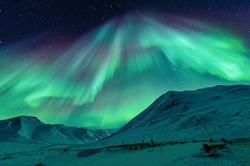 Some things are too good to be true, this is not one of those things
Grand Cayman (PRWEB) August 25, 2016
George's Watersports is announcing a new member of their team. George's Watersports is a watersports company based in the Cayman Islands, which also has a strong social media following around it's frequent posts about all things nature. George's Watersports have been fortunate to experience fast business expansion over the last 12 months, which is why John Michael is the new editor and has begun his career by writing a piece about the top 5 Awesome Events in Nature. He has extensive knowledge about natural phenomenon as he's been a journalist in 5 different countries in the last 8 years.
1. Hessdalen Lights
This is truly a mystery. In a valley in Norway, there are mysterious light shows that will appear at random. Some people speculate that this could be extra terrestrial activity, such as Mike Pilckner who has worked for over two decades to try to discover the truth behind this mystery. Pilckner said in an interview in 2014: "No one knows what is causing this light show. Some people speculate it to be charged particles in the atmosphere, but these claims have been dismissed by most scientists studying the field for lack of evidence".
2. Bioluminescence
This truly is one of the most amazing things in the world. In certain bio bays, the water glows at night bright blue. This is a spectacle that is best seen from kayak or by snorkeling in the bioluminescent water. We know of 12 separate bio bays around the world. From Puerto Rico to Jamaica, this is something very few people are fortunate enough to witness. Tiny single celled plankton called dinoflagellates gather in very high concentration in secluded bays which give off light when disturbed in the dark of night. Some things are too good to be true, this is not one of them.
3. Stingray City
This is plain crazy. Steve Irwin would not have fun here. In Grand Cayman, there is a shallow body of water known as a sand bar where dozens of wild southern stingrays gather to be fed by excited tourists. These rays are all wild, but have grown to like their human counterparts. Their favorite snack is squid! Visitors can hold the stingrays in their arms as if they were holding a dog. https://georgeswatersports.ky/stingray-city-grand-cayman/
This is a very desirable vacation activity idea.
4. WaterSpouts
There is no doubt that tornadoes are scary, but imagine a tornado on steroids. These water beasts are able to demolish boats and anything else that may be unfortunate enough to end up in its path. The concept is simple: tornado + ocean = waterspout. These are tornadoes in the ocean that are connected to large dark clouds. They have been known to suck fish out of the sea and into the clouds, and then fling them downwards into fields when it rains. That's one journey Nemo wouldn't have been found.
5. Volcanic Lightning
Lightning forcing its way through the fiery ashes of a volcano is an extreme event by anyone's measure. This is what happens when certain weather events form to create enough static energy in the atmosphere to ignite a light show. This is a very rare occurrence because it is difficult to predict volcanic activity, but this has been seen in places such as Peru and Chile.
The world is full of mystery, so don't miss out.