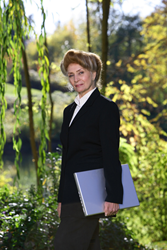 Grants Pass, OR (PRWEB) August 03, 2016
Bio-Logic Aqua® Research Water Life Science® founder, creator of Nature's Tears® EyeMist® and radio host Sharon Kleyne welcomed special guest Olivia Hittner to The Sharon Kleyne Hour Power of Water, Global Warming and Your Health on July 25th, 2016, to discuss the global future of food cultivation. With her husband, Michael Hasey, Hittner runs The Farming Fish on forty acres in Southern Oregon.
"The Farming Fish is really an enclosed ecosystem," Hittler explained. "Where we grow Tilapia from hatchlings and diverse vegetables in a water system that is a recirculating nutrient reservoir. This is a big difference between us and other fish farms."
Kleyne has researched earth's water vapor for decades and is the founder of Bio-Logic Aqua® Research Water Life Science®, a water business that produces Nature's Tears® EyeMist®, the only personal hand-held humidifying device emitting a pure, pH balanced, 100% water mist for dry eyes. Nature's Tears® EyeMist® is endorsed by more than 22,000 ophthalmologists and optometrists nationwide and was successfully test-marketed in more than 70,000 outlets. Nature's Mist® Face of the Water® for dry skin and Bio-Med Wash® for athletic injuries are also one-of-kind solutions for water vapor evaporation because all of these products use only Trademark Secret tissue culture grade fresh water and nothing else.
"It is so important," Kleyne said, "to understand the importance of replenishing earth's and an individual's evaporating water vapor. It's also important," she continued, "to invent new technology of food production."
Hittner agreed, pointing out that her business is the perfect blend of aquaponic (fish) and hydroponic (vegetables and fruits) food production. "We've created a food cycle for now and the future,: she said, and she encouraged others to try hydroponic gardening, too. "For instance," she pointed out, "you'll save 90% of the water used in soil gardening by switching to hydroponics."
Kleyne agreed, telling her listeners that in hydroponic systems, water recycles and plants are nurtured by a perfect balancing blend of the nutrients they need for maximum, healthy growth.
Hittner concluded by inviting listeners to contact her through the website (http://www.thefarmingfish.com/about-us) to ask questions and discuss possibly becoming involved with aquaponics and hydroponics. "What you're doing at The Farming Fish," said Kleyne, "really is the future of holistic food production."