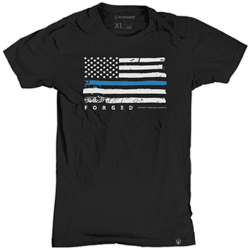 We are honored to be stepping in and leveraging our resources for the DeGuzman family.
(PRWEB) August 03, 2016
A benefit fundraiser organized by Forged® clothing (Forged Threadworks, Inc.) for the family of fallen police officer Jonathan 'JD' DeGuzman, is currently hosted on the Forged website; http://www.forged.com, and will facilitate a $5.00 donation of every product sold from August 1st through August 6th, 2016. Additionally, Forged® has created a commemorative t-shirt to honor the work and legacy of Officer DeGuzman. The tribute t-shirt has been fully endorsed by the San Diego Police Officers Association (SDPOA), and on display at the San Diego Police Department Headquarters, along with each division.  At the conclusion of the campaign, Forged® will donate all proceeds to the San Diego Police Department on August 9th, 2016, who will act as liaison in gifting the bereaved DeGuzman family.
"This campaign was created to help JD's family, as well as facilitate a spirit of community within our city", said Ryan Brundage, Managing Partner of Forged Threadworks, Inc. "By creating a talking point and actionable commemorative purchase, we mean to serve as a social catalyst for more dialogue and healing. At Forged we face a dichotomy that has us moving back and forth between our philanthropic duties to come to the aid of those in need, and maintaining a for-profit lifestyle clothing brand. We take great care in our transition back and forth between these two roles". Forged Co-Founder, Michael Sauers added, "It is a tragedy and we want to do our part to help raise funds for his family. We are donating a portion of our company's proceeds and have also produced a tribute t-shirt in his honor." Sauers went on to say, "The military and law enforcement communities share a common bond. We are honored to be stepping in and leveraging our resources for the DeGuzman family".
ABOUT FORGED®
Navy SEAL veteran owned, lifestyle brand, Forged® was Founded in 2007 on the values of Brotherhood and Strength [through Adversity]. The Forged line of apparel caters to the Military, Law Enforcement, Fire service, and Patriotic Americans that appreciate hard work and old-school values. Forged® has sparked numerous National campaigns just like this one, including THE LEGEND campaign, honoring fallen Navy SEAL Chris Kyle ['The Legend'], where they raised over $1MM+ in eleven and a half days for his wife, Taya [Kyle] and their two children. Subsequently, Forged® was later selected to produce the Official Merchandise for the Warner Bro's motion picture, 'American Sniper', starring Bradley Cooper. 
Forged® considers it an honor to be of service and benefit to the local San Diego community.