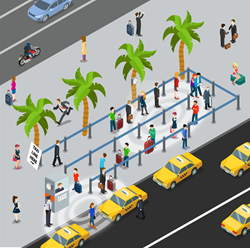 The data has greatly helped improve the customer experience by providing us the ability to schedule taxis to be available when needed.
San Diego, California (PRWEB) August 05, 2016
After receiving a number of customer concerns about taxi wait times, San Diego International Airport began to explore opportunities for providing real-time data to report taxi wait times. Since perceived wait times varied, the airport researched available systems that would automatically and accurately collect both real-time and historical wait time data to help improve taxi and shuttle van customer waiting times.
The airport, which is the busiest single-runway commercial airport in the United States, selected the BlipTrack solution, from Denmark-based BLIP Systems. The solution is able to monitor taxi queues and provide waiting time information on a historical and real-time basis. With this data, the airport has been able manage and improve the tactical management, to plan more effectively prior to the day and allocate resources more effectively on-the-day.
"We chose the BlipTrack solution because it is a cost effective and reliable solution. With almost a full year of operation, the system has helped identify time periods where taxi passenger wait times exceed 10 minutes, thereby allowing us to assess schedule deficiencies and taxi dispatches," says David J. Boenitz, Director of Ground Transportation at San Diego International Airport. "The data has greatly helped improve the customer experience by providing us the ability to schedule taxis to be available when needed."
The sensors at San Diego International Airport are passive and do not work like iBeacons. "BlipTrack sensors automatically, and without interaction from the travelers, detect mobile devices with enabled Bluetooth or Wi-Fi, so the penetration rate is also significantly higher at 40% than with iBeacons at 1%. In order for iBeacons to work as a tool to optimize queue and monitor flow, the technology requires that passengers download a mobile app. However, recent studies show that few travelers download these apps, which significantly affects the penetration rate negatively in order to provide trustworthy data," explains Christian Bugislaus Carstens, Marketing Manager at BLIP Systems.
"Superior airport management not only ensures premium passenger experience within the airport, but also provides travelers with quick and easy access to transportation—such as taxis—at the end of their journey. We value the long-term cooperation with San Diego International Airport and their professional and innovative approach in using our technology to ensure efficient taxi rank operations and improve the passenger satisfaction," ends Christian Bugislaus Carstens.
JFK Airport and Brussels Airport have also adopted the solution to improve their taxi rank performance.
END
Note to editors:
In addition to optimizing taxi line waiting times at San Diego Airport, BlipTrack is successfully employed in optimization efforts in more than 25 international airports, including Schiphol Airport in Amsterdam, JFK Airport in New York, El-Prat Airport in Barcelona, Dulles Airport in Washington, Copenhagen, Oslo, Malpensa and Linate Airports in Milano, Manchester, Brussels, Dublin, San Diego, Helsinki, Auckland, Montreal, Genève, Birmingham, Bristol, Cincinnati, Brussels South Charleroi, Keflavik, Billund and Aalborg. The solution is also implemented in road traffic in Switzerland, New Zealand, USA, UK, Denmark, Sweden, Norway, Canada and Ireland. In recent years, the solution has also been rolled out in ports in Denmark and UK, ski resorts in the US, amusement parks, and at events all over the world.
About BLIP Systems:
BLIP Systems is a privately-held information technology company with headquarters Aalborg, Denmark. The company is one of the leading providers of data analytic tools to transform traveler flow into value, and creating easy-to interpret decision-making tools of end-users. The in-house designed BlipTrack solution measures and predicts movements of people and vehicles. It allow stakeholders in various verticals, including airports, road traffic, train stations, ports, ski resorts, amusement parks and more, to reduce queue and commuting times, optimize staff resources and planning, and improve the traveler experience and retail. BlipTrack consists of various high-tech sensors, a sophisticated analysis platform and a secure web-based user-interface with compelling visualizations and real-time insights. With more than 5000 units deployed worldwide, the solution has already proven itself to be an effective solution for measuring travel times, queues and flow.
Media Contact: Christian Bugislaus Carstens, +45 51168586; christian.carstens(at)blipsystems.com
About San Diego International Airport:
San Diego International Airport is an international airport 3 miles (4.8 km) northwest of downtown San Diego, California, United States. It is operated by the San Diego County Regional Airport Authority. In 2015, traffic at San Diego International Airport exceeded 20 million passengers for the first time. The airport has domestic flights, and international flights to Canada, the United Kingdom, Mexico, and Japan.