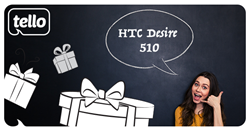 Atlanta, Georgia (PRWEB) August 05, 2016
Tello launches a Facebook contest inviting its customers to share their biggest wishes when it comes to their mobile operators, thus entering the raffle for a HTC Desire smartphone. The contest starts on August 4th and the customers may share their opinions until August 8th. The winner will be randomly selected and the brand new phone will find its new owner on August 9th.
The newly launched mobile operator Tello, which positions itself as the most flexible mobile provider in the US, takes one more step in coming closer to its customers. At the beginning of the year, Tello asked its customers how happy or unhappy was their relationship with their mobile carriers. Only 17% of them were rather happy, so this contest was the next natural phase: if they are not satisfied, what would make them happy?
The most attractive offer Tello makes its customer is the Build Your Own Plan product. This option allows customers to configure their own custom plans depending on the actual number of minutes, texts and data they use.
Tello wireless network disrupted US mobile market with the "no fees whatsoever" policy, the fully customizable plans and last but not least, with the amazingly low rates:

Tello.com allows customers to build their own plans, depending on the number of minutes, texts and data they actually use. Also, they can upgrade or downgrade their plan anytime, without any penalties.
Customers are free to stay as long as they want, as they don't have to sign any contract. Both for Pay As You Go and for the custom plans, Tello promotes up-front rates, so customers don't need to worry about hidden fees or complex terms and conditions.
Customers can share data free of charge with their friends or with other devices. So, tethering is available with no extra costs.
24/7 live support, no robots involved. Tello's friendly Customer Service will answer any call in less than 5 seconds.
Tello also offers great deals for international calls. Customers who call one country frequently may also choose an international plan, with great rates and convenient monthly billing, as the plan renews automatically every 30 days. However, customers can cancel the plan anytime, without any charges, a benefit which applies to both national and international plans.
If users want to stay up to date with all offers and news, they can follow Tello's social media channels: Facebook, G+ and Twitter.
About Tello.com
Tello.com is a telecom provider newly launched on the US market. The company behind Tello is also present in the UK, serving customers through its Tello.co.uk website.
Both Tello.com & Tello.co.uk are designed by KeepCalling, a global telecommunications company registered in 2002 in USA. Presently, KeepCalling provides its services to hundreds of thousands of consumers and businesses, with a focus on customer satisfaction. KeepCalling has been listed by Inc 5000 as one of the fastest growing companies in the USA for 5 consecutive years. In 2015 the company registered a revenue increase of over 200% from 2011 to 2014.