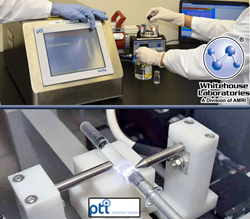 The acquisition of additional leak detection systems reinforces Whitehouse Labs' commitment to excellence in the field of Container Closure Integrity
New York, NY (PRWEB) August 08, 2016
Whitehouse Laboratories is pleased to announce that it has acquired additional leak detection instrumentation from industry partners Packaging Technologies and Inspection in an expansion of their Container Closure Integrity Testing (CCIT) laboratory.
This expansion aims to meet growing demand due to the extensive revision to the United States Pharmacopoeia (USP) general chapter 1207 Package Integrity Evaluation – Sterile Products, which became effective on August 1st, 2016. This guidance chapter will be referenced as the global standard for integrity evaluation of parenteral product packaging systems, and Whitehouse Laboratories is pleased to maintain excellence in the application of the deterministic leak test method technologies to meet the needs of our clients. The acquisition of additional VeriPac 455/M5 and E-Scan 625 detection systems significantly increases the CCIT laboratory capacity.
The VeriPac 455/M5 vacuum decay leak test system uses a pressure differential as the driving force for leak detection. The package under test is housed in a chamber that is evacuated then monitored for pressure rise or a decay of vacuum; significant pressure rise would be indicative of leakage. Vacuum decay leak detection is ideal for lyophilized products, but may not be practical for proteinaceous formulations which may clog defect pathways preventing the necessary gas exchange for leak detection.
The E-Scan 625 high voltage leak detection system relies on electrical conductance measurements through a liquid-filled, non-porous package system. The presence of a leak will cause a drop in the electrical resistance of the test sample, as evidenced by a spike in the voltage reading above an acceptance limit. Viscous or proteinaceous products are suitable for high voltage leak detection as the technology does not rely on gas passing through the defect site.
"The acquisition of additional leak detection systems reinforces Whitehouse Labs' commitment to excellence in the field of Container Closure Integrity. We continue to pride ourselves in offering world class customer service and technical expertise for our clients," says Justine Young, Associate Director of Container Qualification and CCIT.
"PTI continues to develop reliable and robust container closure test solutions, with a continuous focus on a scientific foundation to test method development. Our continued partnership with Whitehouse Analytical Laboratories is our commitment to bringing trusted results to high risk package applications" added Oliver Stauffer, CEO of PTI / Packaging Technologies and Inspection.
Vacuum decay and high voltage leak detection methodologies are classified as deterministic test methods, as they operate based on predictable physical phenomena and are therefore ideal for conclusive integrity evaluation. Whitehouse Laboratories continues to be a leader in offering container closure integrity test method development and validation services and supports routine testing as part of investigations or stability programs pursuant to USP 1207.
About Whitehouse Laboratories
The leader in testing, Whitehouse Labs, a division of Albany Molecular Research Inc., offers comprehensive analytical services providing support for manufacturing from development to market. From analytical chemistry and material qualification to packaging optimization, Whitehouse Laboratories is the testing partner for the world's leading Pharmaceutical, Biotechnology, Medical Device, Life Sciences and Consumer Products organizations.