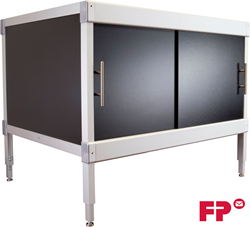 Addison, IL (PRWEB) August 04, 2016
FP Mailing Solutions today announced the launch of a new line of Mail Equipment Furniture, which provides structural stability and protection for all FP postage meters, mailing machines, folder inserters and other mail room equipment. The FP Mail Equipment Furniture line is available for purchase at any Authorized FP Dealer.
The furniture line boasts aluminum frame consoles that are designed to withstand in excess of 1,000 pounds. Strong consoles help prevent bowing which is a contributor to increased service activity. The strength provided by the aluminum extruded consoles help to eliminate the need for service calls and equipment malfunctioning by providing superior stability from vibrations, sags and weak tables.
"We continue to seek out new ways to provide value to our customers," said Carl Amacker, CEO at FP Mailing Solutions. "Any time we can provide customers with a superior product that helps save time and protect their investment, we are very pleased."
Each piece in the line is height adjustable and comes in various lengths and widths offering flexibility, scalability and customization of mailrooms of all design and size. The leveling system assures perfect alignment of each of the components, and the high pressure laminate work surface resists wear and tear of day-to-day usage.
"Our new line of furniture takes functionality and design into a whole new category. Not only is the design sleek and contemporary but it serves a purpose, which is to protect the integrity of the equipment that is installed on it," said Mo Bowlus, OEM Product Manager at FP Mailing Solutions.
All of the pieces in the FP Mailroom Equipment Furniture line are backed by a single source Limited Lifetime Warranty.
FP Mailing Solutions is committed to being environmentally friendly. The product, processes, designs and packaging used in the FP Mailroom Furniture line was designed to minimize the impact on our environment by using recycled materials, refined manufacturing processes to reduce waste, and continually improving the methods to re-use and recycle.
To learn more, visit http://www.fp-usa.com/furniture
ABOUT HAMILTON SORTER
Hamilton Sorter is a manufacturer of modular casework and specialty cabinets. Hamilton Sorter products are used in applications such as Healthcare, Pharmacies, Mailroom, Copy Centers and Workrooms. Hamilton Sorter products are backed by a Lifetime warranty and are dedicated to the GoGreen movement.
ABOUT FP MAILING SOLUTIONS
FP Mailing Solutions is a leading postage meter, folder inserter, address management and mail stream solutions provider offering a wide range of mail center products and services designed to create seamless mailing solutions. The company is the fastest-growing mail machine and systems vendor in the U.S., backed by a mission of helping its customers work better, faster and more cost-effectively when it comes to their mailroom processes. To learn more about FP Mailing Solutions, visit http://www.fp-usa.com.