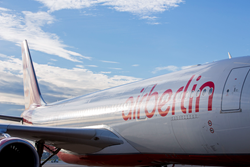 Miami, Florida (PRWEB) August 03, 2016
airberlin increases flights to Germany in summer 2017

Los Angeles – Berlin-Tegel three new weekly flights
Los Angeles – Dusseldorf now year-round
airberlin is increasing its operation from the west cost to Germany further strengthening its long-haul network to the United States by adding three new weekly nonstop flights from Los Angeles to Berlin by the beginning of May 2017 and offering a year-round service starting this winter. The flights offer convenient connections to many of the destinations within its global network.
This network improvement further validates the increasing importance of the airline's hubs in Berlin-Tegel and Dusseldorf and its long-haul network to North America. In addition airberlin now offers a year-round service to Dusseldorf with five weekly flights and expands the service to daily flights in summer 2017.
"airberlin has already seen a strong expansion of its US network this year as the airline added two new destinations and several frequencies to its existing US network. The further expansion of our US operations as of summer 2017 including the new flights from Los Angeles to Berlin as well as the year-round service to Dusseldorf show that we are determined to continue on our path to position airberlin as a premium network carrier with a strong US footprint and an excellent proposition even for the most discerning business traveller," said Stefan Pichler, Chief Executive Officer at airberlin.
In total, airberlin flies nonstop from eight US-destinations in summer 2017 to Dusseldorf and Berlin: Los Angeles, New York (JFK), Boston, Chicago, Miami, Orlando (new), Fort Myers and San Francisco.
All Airbus A330-200 operating these flights are equipped with airberlin's premium long-haul product:

19 seats in the exclusive FullFlat Business Class section
271 Economy Class seats, including 46 XL Seats
20 per cent more legroom.
Tickets can be booked on https://airberlin.com, by contacting the Service Center (Tel: 917 261-3165, local rate applies) or through a travel agent.
About airberlin
airberlin is one of the leading airlines in Europe and flies to 147 destinations worldwide each year. The second largest airline in Germany carried more than 30.2 million passengers in 2015. airberlin offers a global route network through its strategic partnership with Etihad Airways, which has a 29.21 percent share in airberlin, and through membership of the oneworld® airline alliance. topbonus, the frequent flyer programme of airberlin, is one of the leading programmes in Europe with more than 4 million members. The airline with the award-winning service operates codeshare flights worldwide with 21 airlines. The fleet is among the most modern and eco-efficient in Europe. Together with other airlines, airberlin belongs to Etihad Airways Partners, a new brand with which Etihad has been uniting shared activities since the end of 2014.
Press contact:
Janina Mollenhauer
Press Officer
Tel.: +49 30 3434 1500
Fax: +49 30 3434 1509
E-mail: janina.mollenhauer(at)airberlin.com
http://www.airberlin.com
On behalf of airberlin
Madeleine Vogelsang
Media Relations Representative USA & Canada
Phone: 1-917-971-6213
Email: mvogelsang(at)zcomgroup.org
http://www.airberlin.com
http://www.facebook.com/airberlin