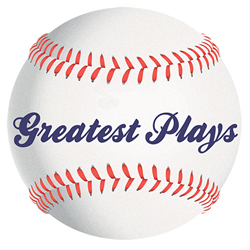 The Sportrait is one of the most unique collectibles I've ever seen. Not only do I get great images and stats of the play and the player, I have a direct link to the video highlights!"
Chicago, IL (PRWEB) August 22, 2016
The Greatest Plays Sportraits™ embody a new interactive fan experience that lets baseball enthusiasts capture great moments from Major League Baseball teams and Players in both print and digital forms. Keep the memory preserved with the 5x7 Sportraits™ and using QR code technology, see and hear the these great moments over and over again.
Greatest Play Sportraits™ are fully licensed by Major League Baseball, the Major League Baseball Players Association (MLBPA) and Major League Baseball Advanced Media. Each week the greatest moments from every MLB team are made available as collectible 5 x 7 Sportraits™ that contains play details and a QR code with direct access to a video highlight so fans can watch each play unfold.
The high quality embossed 5" x 7" Sportraits™ are printed on collector grade portrait stock and features photos directly from each baseball team's greatest play of the week, a link to the official MLB video highlight of that play via QR technology, and plenty of room for an autograph.
Also included with the Sportraits™ are Tweet Sheets, a collection of tweets regarding the highlighted play from MLB players and baseball teams. Fans are encouraged to join the conversation and weigh in via social media. The Greatest Plays team will choose social media posts regarding the baseball player, baseball team or play to include on the Tweet Sheet.
Greatest Plays Sportrats™ combine the collectability of limited-edition pieces with the interactivity of real-time video highlights and social media. Limited edition commemorative Sportraits™ will be available for purchase for a limited time and only online at http://www.greatestplays.com .
Follow Greatest Plays and weigh in on Twitter @greatestplaysBB, Instagram @GreatestPlaysSports and @GreatestPlaysBaseball and at Facebook/GreatestPlays. For more information, contact info@greatestplays.com. Major League Baseball trademarks and copyrights are used with permission of MLB Advanced Media, L.P. All rights reserved.
ABOUT MAJOR LEAGUE BASEBALL PLAYERS ASSOCIATION (MLBPA):
The Major League Baseball Players Association is the collective bargaining representative for all professional baseball players of the thirty Major League baseball teams and serves as the exclusive group licensing agent for commercial and licensing activities involving active Major League baseball players. On behalf of its members, it operates the Players Choice licensing program and Players Choice Awards, which benefit the needy through the Major League Baseball Players Trust, a charitable foundation established and run entirely by Major League baseball players. Follow: @MLB_Players; @MLBPAClubhouse; @MLBPlayersTrust.