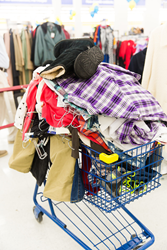 Elkridge, Maryland (PRWEB) August 03, 2016
Planet Aid today spotlighted several little-known facts about the negative environmental impacts of textile waste and the importance of recycling old clothes. These surprising statistics were featured in the nonprofit's blog post entitled, "8 Little Known Facts About Our Clothing Habits."
In this post, Planet Aid pointed out that people buy and throw away billions of clothing items, but few people realize that both clothing production and textile waste take a tremendous toll on the environment. For example, citing the WWF, the nonprofit pointed out that it takes about 700 gallons of fresh water to produce a single cotton T-shirt!
The average American produces more than 80 pounds of textile waste every year, and up to 95% can be reused or recycled.
"We all wear clothes every day, yet very few of us realize just how much of an impact a single article of clothing can have on our environment," said Planet Aid President Ester Neltrup. "By sharing these facts with consumers, Planet Aid hopes to help people to think twice before they toss out unwanted clothing."
To make it as easy as possible to donate their unwanted items, Planet Aid has created a nationwide network of convenient yellow drop-off bins. Planet Aid sells the donations it collects to fund its numerous charitable initiatives and sustainable development programs around the world.
About Planet Aid
Planet Aid is a U.S. 501 (c)(3) nonprofit and is registered with USAID as a private voluntary organization. Accredited by the Better Business Bureau's Wise Giving Alliance, Planet Aid collects and recycles used clothing and shoes as part of its environmental mission. The net proceeds from its 21-state recycling operation help to support projects aimed at eliminating poverty. Planet Aid supports programs in education, teacher training, nutrition and agricultural and economic development.