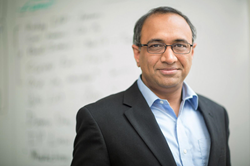 I am so excited to add Sanjay Sarma as one of our Keynoters at Learning 2016. He is an amazing advocate of innovation in learning and is working to map emerging Brain Science, Machine Learning and Learning Innovations at MIT and beyond. - Elliott Masie
Saratoga Springs, NY (PRWEB) August 03, 2016
Sanjay Sarma, Vice President for Open Learning at MIT, will share the rapidly shifting approaches to Innovation in Learning and Brain Science as a Keynoter at Learning 2016.
Sanjay will join Anderson Cooper (anchor of CNN's Anderson Cooper 360°), Astronaut Scott Kelly, Twitter CLO Melissa Daimler and Actor George Takei as a main stage keynote speaker at Learning 2016, taking place October 23-26 in Orlando, FL.
"I am so excited to add Sanjay Sarma as one of our Keynoters at Learning 2016. He is an amazing advocate of innovation in learning and is working to map emerging Brain Science, Machine Learning and Learning Innovations at MIT and beyond," said Elliott Masie, Host and Curator of Learning 2016.
In addition to being the Vice President for Open Learning at MIT, Sanjay also leads the Office of Digital Learning, which oversees MIT OpenCourseWare and supports the development and use of digital technology for on-campus teaching and massive open online courses (MOOCs). He is also the Fred Fort Flowers (1941) and Daniel Fort Flowers (1941) Professor of Mechanical Engineering at MIT.
Author of more than 75 academic papers in computational geometry, sensing, RFID, automation, and CAD, Sarma is the recipient of numerous awards for teaching and research, including the MacVicar Fellowship, the Business Week eBiz Award, and InformationWeek's Innovators and Influencers Award. He received his bachelor's degree from the Indian Institute of Technology, his master's degree from Carnegie Mellon University, and his PhD from the University of California at Berkeley.
Learning 2016 will address these hot topics:

Brain & Cognitive Science
Machine Learning & Adaptive
Virtual Reality & Learning
Gamification & Engagement
Curation & Content
Mobile & New Tech
Learning Disruption
Matrix (Blended) Learning
Learning Personalization
Leadership Development
Learning 2016 takes place October 23-26 in Orlando, FL. It is produced by The Learning CONSORTIUM, a collaborative of 200 global corporations, focused on improving workplace learning and training. Hosted and curated by Elliott Masie, Learning 2016 brings together several thousand learning professionals as they focus on the changing nature of workplace education and development.
Information about The MASIE Center and Learning 2016, including content and online registration, can be found at http://learning2016.com.