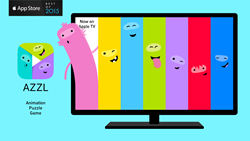 AZZL game is an expression of our company's soul and we are really happy that people around the world are enjoying our Puzzles.
(PRWEB) August 04, 2016
AZZL is totally unique, funny and stylish application which combines fancy puzzles, juicy animation and eye-catching characters.
Available exclusively in the App Store and optimized for iPhone, iPad and Apple TV, AZZL is suitable for all ages and features brilliant artwork, beautiful animation, and unique, loveable characters that promise to turn an ordinary day into one full of fun, laughs, and endless puzzle-solving joy.
Getting started with AZZL is simple and easy, and features several never-before-seen puzzles that according to Jutiful "are so juicy, that even a rumrit could pass". To solve each puzzle, users must tap, move, swipe, and rotate animated pieces that include squares, zigzags, waves, hexagons, triangles, circles and more. Plus as a reward, users have the opportunity to unlock an amazing secret world when they complete all levels.
From the date of going live AZZL received honorable and up-market rewards:

BEST OF 2015 according to "APPLE" (The best application of 2015)
BEST MOBILE GAME 2015 according to "CNET"
GAME OF THE DAY 2015 according to "FWA"
AWARD HONOREE 2016 according to "WEBBY"
The rate of game is 4.9 out of 5!
AZZL can be downloaded from the App Store at https://itunes.apple.com/us/app/azzl/id640484311.
The AZZL press kit, additional game information, including screenshots, is available at http://azzl.com.
For all other details contact Alina Bieglova, Marketing & Communications Manager, at bieglova (at) jutiful (dot) com.
About Jutiful
Established in 2012, Jutiful is an international team of "juicy app specialists" who are dedicated to creating beautiful, fun and interactive iOS and Android apps for users who love the beautiful and extraordinary.
Learn more at jutiful.com, or follow the company on Facebook at https://www.facebook.com/JutifulApps or via Twitter @Jutiful_Apps.