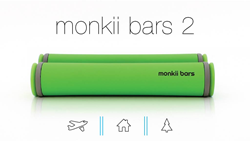 We made monkii bars 2 to free you from your boring, unrealistic routine and enable you to workout anytime, anywhere.
Denver, CO (PRWEB) August 03, 2016
With the recent launch of monkii bars 2, which has already gained over 2,500 backers on Kickstarter, it's obvious that there are a lot of people who are excited for the chance to forgo their monthly gym membership, instead opting for a bodyweight training device that makes it possible to work out anywhere.
Under the premise that the gym isn't an ideal place to work out—think fluorescent lights, sweaty equipment, and that creepy guy on the elliptical—monkii bars re-designed their flagship product to allow quality workouts at home, while traveling, or even outside.
monkii bars 2 can be setup in under a minute on any home or hotel room door using the sleek Adventure Kit; that doubles as a carrying case and door attachment, and makes indoor workouts incredibly convenient. For outdoor workouts, just toss the suspension line over a tree branch. Using monkii bars 2 develops total body strength through familiar exercises like pushups, pullups, and flys as well as through more unique exercises like ice-cream makers, pistols, and archers.
Paired with the included MONKII App, monkii bars 2 becomes more than just a fitness device—it becomes a private gym, personal trainer, and adventure guide built into one. The game-changing app is a crowdsourced geo-cache of workout locations and specific workouts to do at each location. For business travelers, now there is no need to spend time in the closet-like hotel gym—users can navigate to nearby workout locations to workout with monkii bars 2.
"We want to inspire people to be active and move daily," says David Hunt, Chief Adventure Officer and Co-Founder. "Too many gym memberships go unused, and people feel like in order to get back into shape they need to have a routine of hours-long gym sessions, which isn't true. We made monkii bars 2 to free you from your boring, unrealistic routine and enable you to workout anytime, anywhere."
monkii bars 2 are available for pre-order at heavily discounted prices on Kickstarter from July 11th to August 22nd. After that they'll continue taking pre-orders on their website until they begin shipping in January 2017.
monkii bars have been featured in Outside Magazine, Backpacker Magazine, The Atlantic, Good Morning America, and The Today Show.
Check out their Kickstarter at monkiibars.com/2