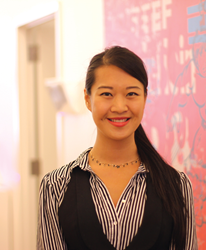 I look at the spine, the nervous system, as well as posture, gait, and basic biomechanics to figure out where exactly the problem lies...
New York, NY (PRWEB) August 04, 2016
Chiropractor Dr. Frances Sariya is a doctor of chiropractic medicine, she has been practicing for 4 years in New York City. The addition of Dr. Sariya as an associate chiropractor to the team of specialists at Living Well Medical, ensures the continued advancement of a unique integrated, multidisciplinary practice that offers cutting edge treatment. Over the years through the course of study and clinical practice, Dr. Sariya has found chiropractic and a combination of practices indispensable to helping people get out of pain quickly, and for far longer than with medication alone.
The doctors and specialists at Living Well Medical work together as a team to minimize pain, and optimize treatment and recovery. Living Well Medical has been at the forefront of establishing proven, effective, non-surgical pain treatments, such as spinal decompression and ART (Active Release Technique). The approach to helping patients at Living Well is developed to address the root cause of pain and injury. The team uses on-site diagnostics to determine the best course of treatment, whether that requires the use of one technique, or several modalities, each treatment plan is tailored for long term results. This approach also ensures an efficiency of treatment that lowers the cost of treatment over the long term, due to less regression and recurrence of pain, and injuries.
Dr. Sariya graduated from the University of Bridgeport College of Chiropractic. She chose chiropractic because of its holistic approach to maintain health and wellness. By using a combination of Chiropractic adjustments, Active Release Technique (ART), Kinesiotaping, and Graston technique, Dr. Sariya aims to help relax the nervous system by re-aligning and decompressing spinal vertebras. She is also able to manually address often neglected muscle tissue and increase joint mobility by working towards breaking down intramuscular adhesion and increasing bloodflow. This varied approach, when combined with on-site massage therapy, and physical therapy, results in an overall happier patient.
Dr. Sariya states that "With an integrated, holistic approach, a patient is far less likely to suffer from re-injuring themselves or suffer complications due to compensations, or imbalances that can travel through the kinetic chain and cause other problems throughout the body. I look at the spine, the nervous system, as well as posture, gait, and basic biomechanics to figure out where exactly the problem lies. The origin of the issue might not be right where the pain is located." Dr. Sariya finds that for most physical injuries can be quickly and efficiently addresses by decreasing pain, improving range of motion, and maintaining spinal health and balance to enable all cells tissues and organs to function optimally.
Fro more information on Dr. Sariya chiropractic, ART (Active Release Technique), or GrastonTechnique visit livingwellnewyork.com or call: 2126278149