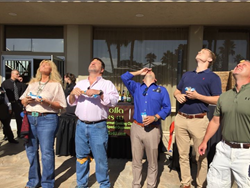 San Diego, Calif. (PRWEB) August 09, 2016
The leading manufacturer of emergency-response software in the U.S. stepped away from its national sales conference to join Chef Jodi Abel, founder of Lajollacooks4u, for an exciting afternoon of team building at the Hilton Harbor Island hotel in downtown San Diego last week.
Approximately 70 team members attended Lajollacooks4u's cooking challenge and were escorted to the hotel's terrace upon arrival. Sasha Cherry was the emcee for the event and led the group through an assortment of interactive games in order to form the 5 cooking teams: Red, Orange, Black, Yellow and Green.
Once the teams were formed, each assembled into their assigned stations and chose a dish to prepare. A head chef was then selected to manage each team, and members chose to either help prepare the recipe or to help produce a 1-2 minute informational about their assigned dish. Each group was given 45 minutes to complete their challenge, and judges scored each group based on taste, presentation and infomercial quality.
After the winner was crowned – the Black team – all participants tasted and enjoyed the delicious food from each station, which included bruschetta, black bean & corn salad, antipasti skewers, shrimp ceviche and goat cheese mousse. All in all, the event was an overwhelming success – one that engaged its participants and helped to solidify and maintain team spirit.
In fact, one team member wrote, "Chef Jodi and her team are amazing! First, I showed up expecting to have to help, and she insisted I enjoy myself and let her team handle all the details. The way they handled everything from determining teams, to the activity itself, to the judging, was beyond my expectations. I HIGHLY recommend Lajollacooks4u to anyone looking for a unique and memorable experience!"
About Lajollacooks4u:
Lajollacooks4u, founded in 2008, provides an ideal activity for corporate team building, couples and any foodie looking for a unique cooking and culinary experience in a magnificent setting overlooking the Pacific Ocean. Based in La Jolla, a suburb of San Diego, CA, Lajollacooks4u has enjoyed record growth since its inception in 2008 and has been ranked as one of the area's top attractions on the popular travel review site, Trip Advisor. Chef Jodi Abel also recently released her cookbook, Lajollacooks4u: California Cuisine, an accumulation of the favorite recipes her guests have been raving about. For more information about her cooking events, as well as her cookbook, please contact jodi(at)lajollacooks4u(dot)com or visit http://www.lajollacooks4u.com.