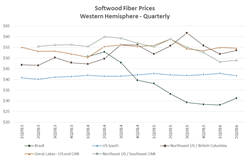 "These benchmarks allow producers in each end-product category to compare their own raw materials costs to the market average," said Pete Stewart, President and CEO of Forest2Market.
Charlotte, NC (PRWEB) August 04, 2016
Wood fiber costs for pulp and paper product producers in the Western Hemisphere continued to fall in 2Q2016, according to Forest2Market's Western Hemisphere Benchmark. On average, the various end-product segments purchased wood at the following prices (USD/ton):
Boxboard: $46.67
Conifer Pulps: $43.24
Hardwood/Eucalyptus Pulps: $54.83
Coated Papers: $58.45
Containerboard: $44.23
Newsprint: $42.25
Uncoated Freesheet: $48.84
Quarter over quarter, costs fell between $USD0.18/ton and $USD2.39/ton (0.4-4.2 percent) for all consumers except newsprint.
"These benchmarks allow producers in each end-product category to compare their own raw materials costs to the market average," said Pete Stewart, President and CEO of Forest2Market. "The cost of raw materials is one of the largest costs that pulp and paper manufacturers have. When competing in global end-product markets, it is important to know where your fiber costs fall. If you are higher than average, taking action to lower these costs so that they are in line with market rates can have a significant impact on a company's competitiveness."
Delivered Conifer (Softwood) Wood Fiber Prices
In the Western Hemisphere, the US South has traditionally had the lowest softwood fiber prices. That has changed since the end of 2014, however. In Brazil, where prices were once on par with those in the Northwest US and Great Lakes regions, an ultra-competitive pulpwood market and the growing differential between the strong US Dollar (USD) and the Brazilian Real (BRL), which has lost 30 percent of its value during the country's recession, have sent softwood fiber prices plummeting. At the end of 2014, prices fell below those in the US South, allowing Brazil to make headway in US markets. Second quarter results for US producers showed the effects of Brazil's success in this regard. In 2Q2016, a quarter in which the recession began to weaken and the BRL gained back 11 percent of its value, prices showed signs of recovering.
Another noteworthy trend in softwood fiber pricing is the changing cost position of the Northeast US / Southeast CAN. Traditionally a high cost market, the Northeast has seen a decrease in demand for conifer fiber due to multiple mill closures. Softwood fiber prices have softened in 2016 as a result. Though the 2Q price was 1.5 percent higher than the 1Q price, Northeast producers are now much closer to being cost competitive with producers in the US South.
Delivered Hardwood Fiber Prices
Hardwood fiber prices increased in every region in the Western Hemisphere except the US South. The Northwest US market (the smallest hardwood market in the hemisphere) saw the largest increase at 16.1 percent in 2Q2016. Brazil's eucalyptus prices climbed 8.5 percent. Increases in the Northeast US and Great Lakes regions increased by roughly 2 percent. The US South was the only region to experience a decline in hardwood fiber prices, falling 2.8 percent.
About Forest2Market
Headquartered in Charlotte, N.C., Forest2Market provides market pricing data as well as wood and fiber supply chain expertise to customers in the forest, wood products, bioenergy and biochemicals industries. For more information about Forest2Market benchmarks visit http://www.forest2market.com/products
Methodology
For the Western Hemisphere Benchmark, we report stemwood (i.e. tree-length pulpwood or bolts) and wood fiber chips (wood fiber chips only, not energy chips) delivered through the supply chain to the end producer's mill gate. We then convert the price and unit of measurement to US dollars/short ton. For stemwood, we also convert the product to a wood fiber chip equivalent and add a cost of five US dollars/green ton for debarking and chipping to the chip pile. We then compute a weighted average price for all combined wood fiber.