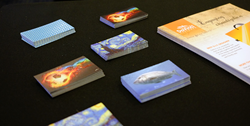 It was exciting for us to present a software that brings all of the components of design into one simplistic place for proofing.
Las Vegas, NV (PRWEB) August 05, 2016
Opensoft, Inc., is pleased to present DaVinci Designer (DaVinci), a state-of-the-art online product customization tool for the print industry. The interactive 3D proofer and PDF builder facilitates an easy design process for users of any experience level looking to create impressive print collateral.
The web-to-print tool was showcased to franchise owners from Sir Speedy, PIP Printing, Multicopy and Signal Graphics attending Franchise Services Inc.' s (FSI) convention on July 22 in New Orleans.
As one of the largest annual buying events in the printing, signs and marketing industries, FSI offers an opportunity for vendors to exhibit print products and services. Franchise owners who typically present printed proofs to clients found DaVinci's digital proofing tool to be invaluable.
"We were pleased to meet with attendees of FSI's Vendor Show, and to have an opportunity to present how they can take advantage of DaVinci Designer for various types of design and printing needs," said Jeff Aragon, software sales executive, DaVinci Designer. "It was exciting for us to present a software that brings all of the components of design into one simplistic place for proofing."
Its easy-to-use, interactive interface allows DaVinci's intuitive software to provide advanced designing and proofing capabilities to print resellers and trade printers. Showing true-to-life digital proofs in 3D with 360-degree views gives the customer assurance of their designs and enhanced effects, such as texture and spot UV, in real time.
"DaVinci comes in multiple pricing models," added Aragon. "Franchise owners can purchase the enterprise package or create a custom package to meet various business needs and applications."
The web-to-print tool powers e-commerce sites like Rent A Press, a recently acquired client that is new to the trade print industry.
"DaVinci helps our clients provide digital proofs to their customers on a range of marketing print products," said Viktoria Vasileva, account manager, Rent A Press. "The 3D proofer is a big selling point for our clients."
DaVinci Designer is looking forward to demonstrating its proofing tool at Graph Expo 2016, to be held Sept. 25-28 at Orange County Convention Center in Orlando, Fla.
To schedule a demonstration or for more information, visit davinci.opensoftdev.com/demo
###
About DaVinci Designer
DaVinci Designer is a wholly owned subsidiary of Opensoft Inc., located in Las Vegas, Nev. Opensoft Inc. has advanced technologies for the print industry and extensive experience in developing print software for managing print processes at every stage of selling, manufacturing and fulfillment.