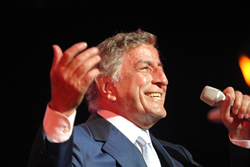 Tony Bennett is a national treasure. Time & Place is thrilled to offer guests the opportunity to celebrate this legendary entertainer.
Denver, CO (PRWEB) August 03, 2016
To celebrate beloved baritone Tony Bennett, Time & Place Luxury Vacation Rentals launches their new line of Signature Special Events on the singer's 90th birthday. Long a leader in the luxury villa market, the company is expanding offerings into experiences and adventures including high-end safaris and celebrity ceremonies.
Guests will attend the star-studded taping of NBC's special at Radio City Music Hall, which will feature performances by Lady Gaga, Billy Joel, Elton John, Stevie Wonder, Aretha Franklin, KD Lang and more. Solo, duet and medley performances will be interspersed with comedy sketches, tributes to Tony, and historical vignettes produced by Martin Scorcese.
Time & Place guests will enjoy premium seats at the taping and will attend the after-party as well as a meet and greet with the legendary Mr. Bennett himself, along with chauffeured transportation and five-star NYC accommodations.The trip will be coordinated by Andy Irvine, a veteran events planner with more than ten years' of celebrity and sports experience.
"Tony Bennett is a national treasure," says Irvine. "We are thrilled to be able to help pay tribute to an artist embraced and loved by audiences of all generations."
This Signature Event may be arranged by calling Time & Place at 1.866.605.3542. Prices are available on request.
ABOUT TIME & PLACE:
Time & Place is a luxury villa rental company providing curated properties with concierge services in stunning locations throughout the world, and is now offering luxury adventures such as high-end safaris as well as curated special events such as The America's Cup and the Cannes Film Festival. Named a "Best Villa Rental Agency" by Travel + Leisure magazine for the past three years, Time & Place was founded by Mitch Willey in 2001. http://www.timeandplace.com
ABOUT ANDY IRVINE:
Prior to starting his own events company, Irvine was Director of Events and Family Activities at an international luxury hospitality concern, where he implemented and oversaw events for 3,500 members in 40 international destinations. Prior to that, he worked extensively throughout the Caribbean including the British Virgin Islands with Rosewood Hotels and the Radisson Resort and Hyatt Regency Grand Cayman Resort in the Cayman Islands. His ultimate goal for clients is to make dreams come true by providing beyond-the-velvet-rope experiences not accessible to the general public.
ABOUT TONY BENNETT:
Born in Astoria, Queens, Bennett is the son of Italian immigrants who found work as a grocer and seamstress. As a teenager he sang while waiting on tables and then enlisting in the Army during World War II. Home after the war, his big break came in 1949 when comedian Bob Hope noticed him working with Pearl Bailey in Greenwich Village. Bennett has performed for 11 US Presidents, is a World War II veteran who fought in the Battle of the Bulge, participated in the liberation of a concentration camp, and marched with Dr. Martin Luther King in Selma to support civil rights. He has won 18 Grammy Awards, is a Kennedy Center Honoree, and UN Citizen of the World. His paintings hang in The Smithsonian and he has sold 10 million albums in the last 10 years.