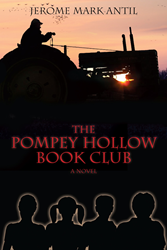 "A message to American youth - from the Greatest Generation."
Dallas, Texas (PRWEB) August 08, 2016
Antil writes about growing up in the shadows of WWII. "Heroism, sacrifice and charity were all a part of the nation's fabric in the 1940s," says Antil. "That's how we were brought up."
Little York Books is making several thousand copies of the first novel in the Antil series – The Pompey Hollow Book Club - available to be divided and shipped to Veterans hospitals in all fifty states in plenty of time for Thanksgiving.
"Speaking of those veterans, hospital bound," Antil said, "It's one thing to having given up your life for your country. Millions have done that. We think of those men and women often and celebrate them on special days. It's quite another thing to have survived the field of battle, to languish in hospitals in the shadows of the world you helped save. Thanks to you the world goes on living, walking, skipping rope and celebrating the very freedoms you fought for. And sometimes we forget about those still in hospital beds, still fighting." Veterans matter.
An award winning novel - The Pompey Hollow Book Club - is soon on its way. A gift to the veterans in those many hospitals.
Imagine growing up during WWII. Many can't and don't know what it was like living during a time when more than seventy million people were being killed worldwide. Jerry remembers, as do his friends. Most of them remember Pearl Harbor. Together they bring stories of tall tales rooted in the truth…that get taller in the telling.
The Pompey Hollow Book Club narrated by ten year old Jerry just after his family moved from the city, Cortland to the Currier and Ives dairy farm country, Delphi Falls, of upstate central New York. You meet his family and new friends. You learn their characters, their dreams. You watch them stumble into misadventures and figure their way out.
Named BOOKS & AUTHORS – Book of the Year – 2012 – this novel is loved by every age, worldwide.
Antil was named 'Writer of the Year' by a Syracuse University press.
"A heartfelt story about growing up in the shadow of World War II."~ KIRKUS
"…it will be a hard-hearted reader who won't chuckle at least once." ~ KIRKUS
"It reads like a NORMAN ROCKWELL painting." ~ Ron Masak – Actor, Author
"Mark Twain meets the Greatest Generation." ~ Horwitz