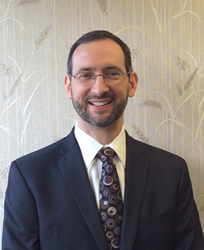 Baltimore, MD (PRWEB) August 03, 2016
Dr. Ari Moskowitz is an esteemed periodontist in Baltimore, MD, who is an honored recipient of the best periodontist award by the Baltimore Magazine for 2016. Dr. Moskowitz is committed to providing the latest techniques and developments in dental technology at his practice, Baltimore Periodontics, including the LANAP® protocol to treat gum disease. This laser dentistry procedure is known for its accuracy, reliability and gentleness when compared with other popular procedures for periodontal disease.
Before awarding qualified dentists, the Baltimore Magazine surveyed over 2,000 dental professionals in the Baltimore area and asked them where they would send their family for quality dental care. The awards were divided by specialty and location and those surveyed selected talented individuals on the forefront of their field who provide skilled techniques and compassionate care.
Dr. Moskowitz is honored to be given a best periodontist award by the Baltimore Magazine this year. He strives to form an understanding of each patient and their unique needs while offering customized dental solutions through advanced training and technology. As one of the first periodontal professionals trained to offer the LANAP® protocol in the Baltimore area, Dr. Moskowitz is highly qualified to perform this and other laser dentistry procedures for the treatment of periodontal disease. Millions of Americans suffer from gum disease, and if left untreated, this condition can lead to further serious health issues including heart disease. The LANAP® protocol is highly recommended by Dr. Moskowitz for patients with moderate to advanced gum disease. This laser-based treatment system is capable of accurately targeting bacteria-infected gum tissue without causing harm to nearby healthy tissue while also reducing the risk of infection.
Patients with the beginning stages of periodontal disease are encouraged to seek treatment as early as possible. Initial symptoms include gums that bleed frequently after brushing or flossing, chronic bad breath and sensitive teeth. With prompt treatment, the chance for additional complications, including bone and tooth loss, are minimized. Receiving early treatment is not only essential for optimum oral health, but for overall physical health as well.
Dr. Moskowitz invites all patients with gum disease to schedule a laser dentistry appointment at his practice. As a respected periodontist in Baltimore, MD, Dr. Moskowitz is skilled in the use of laser procedures as well as a variety of other treatments including dental implants, sleep apnea, and the Chao Pinhole® Surgical Technique. New patients can learn more about these services or schedule appointments by calling 410-774-5441.
About the Doctor
Baltimore Periodontics Lasers & Dental Implants is a periodontal practice offering individualized care for patients in Catonsville, MD. Dr. Ari Moskowitz has been voted by general dentists as one of the top periodontists in the Baltimore area (as surveyed by Baltimore Magazine). He received his Doctorate of Medical Dentistry (D.M.D.) from Tufts University School of Dental Medicine in 1998. Immediately following dental school graduation, he gained entrance to the prestigious University of Maryland- Baltimore College of Dental Surgery Periodontology Program for residency training, where he received a Certificate as a specialist in the field of Periodontics in 2001. He later became Board Certified in Periodontology, an achievement that only 2,000 periodontists in the U.S.A. had achieved at that time. Dr. Moskowitz believes in continuing education and is proud to offer advanced periodontal techniques, such as the LANAP® protocol and Pinhole Gum Rejuvenation Technique™, to provide the best possible outcomes. To learn more about Baltimore Periodontics Lasers & Dental Implants and the services they provide please visit their website at http://www.baltimoreperio.com or call (410) 774-5441.