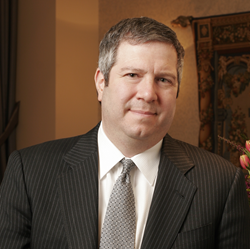 Philadelphia, Penn. (PRWEB) August 04, 2016
When it comes to plastic surgery, Philadelphia-area double board certified facial expert Timothy M. Greco, M.D., FACS, emphasizes that various surgical procedures are ideal for providing new youthful contours to an aging face, but they do not address benign pigmented skin lesions, broken capillaries, or other skin conditions. The pulsed-dye laser is intended to improve a variety of skin imperfections and can be used as stand-alone treatment or paired with plastic surgery procedures to maximize aesthetic results. Dr. Greco added the laser to his practice in July.
Many laser treatments work by delivering energy to a specific layer of the skin, where heat triggers new collagen growth or generates other benefits. These are effective methods, but can often be limited in the results they provide. Vbeam Perfecta is a versatile treatment that sends laser energy into blood vessels, where oxyhemoglobin absorbs the energy without damaging surrounding tissues.
This selective heating destroys vessel walls, collapsing unwanted small veins and arteries that are visible on the surface of the skin or that feed skin irregularities such as cherry angioma.
Vbeam Perfecta can improve the appearance of facial and spider veins, leg veins, and other vascular lesions, as well as pigmented lesions. It also reduces the visible redness of rosacea and can treat acne scars and stretch marks.
Pulsed-dye laser treatments work as a series of light pulses of a certain wavelength and have been used since the 1980s to treat port wine stain birthmarks on patients as young as infants. Vbeam Perfecta includes a system that cools the skin with a mist just before a pulse is delivered to minimize discomfort and post-treatment redness. Most patients say the laser creates tingling or warmth in the treated area and is well tolerated. An anesthetic is not necessary, but can be applied if desired.
Improvements may be noticed soon after a treatment session at Dr. Greco's plastic surgery practice. For pigmentary and vascular lesions, fading continues after treatment. Firmer, tighter skin develops in areas treated for facial rejuvenation.
The number of treatments necessary to achieve ideal results will vary from patient to patient and will depend on the type and severity of the skin condition and the patient's unique goals.
Other unique uses that can greatly benefit patients are the treatment of post-surgical scars and bruising with the Vbeam Perfecta. Scars improve dramatically by softening and decreasing the redness. Bruising from either facial plastic surgery or minimally invasive procedures can typically disappear within 48 hours after laser treatment.
Find out more about Vbeam Perfecta at facial expert Dr. Tim Greco's plastic surgery practice in the Philadelphia area. Visit his plastic surgery website at drgrecoface.com, or call (610) 664-8830.