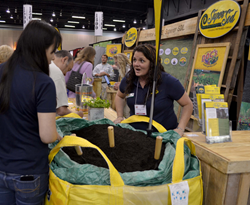 The synergy between our two companies has made this an extremely easy transition.
ATLANTA, Ga. (PRWEB) August 25, 2016
Super-Sod of Atlanta recently celebrated the anniversary of the partnership formed between friendly businesses when Super-Sod purchased Sod Atlanta's farm in the summer of 2015. This merger of Georgia turfgrass growers resulted in beneficial changes for both businesses.
Since Sod Atlanta's sale to Super-Sod, the sod farm adopted new technology, products, and techniques to improve sod growth and customer satisfaction, all while retaining office staff, farm employees, and the leadership of Ken and Josh Morrow, the father and son proprietors of the former Sod Atlanta.
"The synergy between our two companies has made this an extremely easy transition," said Josh Morrow, now area manager for Super-Sod.
After the sale, the Super-Sod of Atlanta farm planted TifTuf Bermuda, a durable turfgrass with impressive drought and wear tolerance. They now ship TifTuf and other turfgrass varieties to Super-Sod stores and customers across Georgia, Tennessee, and the Carolinas.
As a result of the sale, Super-Sod added Zeon Zoysia, a warm season turfgrass, to their farms throughout the Southeast and began serving customers in the northwest Georgia and Tennessee regions.
The farm location northwest of Atlanta increased delivery truck efficiency for Super-Sod's Georgia stores, allowing for more timely deliveries and direct-from-farm shipping to Atlanta-area customers. More direct shipping also meant better use of space in their local stores.
In the past year, the sod farm implemented newer technologies in harvesting, spraying and fertilizing to reduce harvest time and increase turfgrass quality. A new sod harvester contributed to improvements in both efficiency and environmental awareness at the farm.
Along with these farm improvements, Super-Sod of Atlanta's retail store now offers an expanded product selection, including lawn maintenance chemicals, fertilizers and Super-Sod's organic compost product, Soil3.
"The additional chemicals, fertilizers, and especially Soil3, have been a big hit with our existing customers," Morrow said. "Offering these products allows us to be a one-stop shop for sodding needs in the North Georgia market."
Soil3 organic compost, sold in a BigYellowBag, is useful for local lawn enthusiasts and gardeners alike. The OMRI-listed humus compost is created at Super-Sod's farm in Fort Valley, Georgia. Wheat straw, manure from local dairies, and grass clippings from the farm are the only ingredients featured in this multi-functional compost. Soil3 is used to add nutrition, improve moisture retention, and build better soil structure in difficult, native clay soil.
Both retail customers and landscapers can visit Super-Sod of Atlanta at 54 Brown Farm Road SW, Cartersville, Georgia. The store offers sod by the roll, pallet, and truckload. Farm workers harvest sod orders each morning to ensure freshness; therefore, customers should call ahead to order or check on same-day availability.
Super-Sod, a subsidiary of Patten Seed Company, is a family run business that employs experts in turf and horticulture. Super-Sod continuously develops new garden products; fosters gardening and landscaping; and seeks improvement in farming practices, technology, environmental stewardship and employee knowledge.