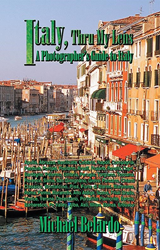 Fascinating read, he takes you from city to city in photos, though there's plenty of text to back up the images.' - Italia Magazine
(PRWEB) August 11, 2016
Photographer/author Michael Belardo paints a beautiful picture of scenic Italy in his new book "Italy, Thru My Lens: A Photographer's Guide to Italy."
"Capturing an entire country in photographs is something of an art form, and it requires many types of skills – from simply understanding how your camera works, through the use of light and on to precise composition. Michael Belardo has spent 28 years in Italy learning these skills, and here, in a book that stretches across 300 pages, are the results of his labours. Fascinating read, he takes you from city to city in photos, though there's plenty of text to back up the images." – Italia Magazine
"Michael is not just a great photographer. In his photos, the images, people, places, and scenes come to life, through his vivid depiction and careful attention to detail. You always feel a 'sense of place,' and want and need to be in that place. Through 'his lens,' Michael shares with you his experiences and emotions as a photographer and story teller." – Bob Lipinski, founder, Bob Lipinski Consulting
The author has traveled throughout Italy for the last 28 years. As a photographer, each trip posed another challenge to capture this picturesque country.
"His albums of Italy describe familiar places, with fresh stories to tell. Even the Leaning Tower of Pisa, the Duomo of Florence, and il Colosseo in Rome look different from the postcards. Having an Italian background obviously makes a difference!" – Frank E. Johnson, author and importer
According to the author, "I put together a travel book that is photo based. The concept is from the south to the north, and each photo represents a place that I hope you will want to visit. The photography for me is very important, and I wanted to give you a little more than a regular travel book. My photos are all places you can visit. Use the images as an inspiration to explore Italy. It's a magical country and you can never go there too often."
"Don't forget the best places to shop, eat and get married. 'Italy Through My Lens' captures the elegance, grace and culture of Italy through Michael's passion and love for the county. Besides the photographs and stories, there's humor. A must have for anyone with a passport!" – Rona Siegel, photo agent
Watch the video at: https://youtu.be/rDY-euRu3fw
About the Author: Michael Belardo grew up in Connecticut, lived in San Francisco, and now resides in New York City. An importer of Italian wines, his previous photography book was "Friends of Wine: In Vino Veritas."
"The marvelous photography in this book puts you right in the heart of Italy and its glorious countryside. You can almost smell the pasta and vino. We are proud to be the publisher of such a fine book." – Robert Fletcher, CEO, Strategic Book Publishing and Rights Agency
Italy, Thru My Lens: A Photographer's Guide to Italy (ISBN: 978-1-63135-985-9) is now available for $52.50 and can be ordered through the publisher's website:
http://sbpra.com/MichaelJBelardo or at Amazon.com, Barnesandnoble.com or http://www.barneys.com/barneys-new-york/home
Wholesalers: This book is distributed by Ingram Books and other wholesale distributors. Contact your representative with the ISBN for purchase. Wholesale purchase for retailers, universities, libraries, and other organizations is also available through the publisher; please email bookorder(at)sbpra(dot)net.